Southwest Airlines plans to return to normal operations on 30 December following a disastrous end-of-year travel period in which the carrier has so far cancelled more than 12,000 flights over six days.
The Dallas-based discounter's flight schedule has been reduced to about one-third of normal since 26 December while it scrambles to reset its ageing crew scheduling IT systems, which crashed during peak holiday travel – leaving hundreds of thousands of passengers and crew members frustrated, angry and stuck.
Southwest has yet to fully recover. As of 10:45 Pacific Time on 29 December, it had cancelled 2,363 flights, or 58% of its daily schedule, according to the flight-tracking website FlightAware.com.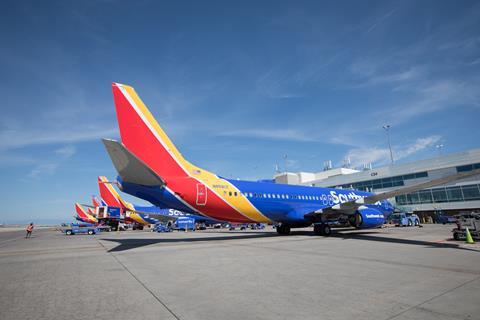 "We are encouraged by the progress we've made to realign crew, their schedules and our fleet," Southwest said 29 December. "With another holiday weekend full of important connections for our valued customers and employees, we are eager to return to a state of normalcy."
The beleaguered airline has set up a webpage for customers seeking refunds and reimbursements for cancelled flights as well as meals, hotels, and alternative transportation.
Southwest's operational issues began with the winter storm that hit the Midwest and Northeast USA in the busy travel days before Christmas, and the situation snowballed thanks to the decades-old software that lost track of the location of flight crews and aircraft, according to the Southwest Airlines Pilot Association (SWAPA).
After days of silence, Southwest chief executive Bob Jordan acknowledged on 27 December that the airline's fleet and crewmembers were out of position in "dozens of locations". He promised to address the IT issues that plagued Southwest during the holiday rush and that the company's customers and employees would "never again face what's happening".
The operational meltdown is drawing scrutiny from lawmakers and regulators, with the US Department of Transportation telling FlightGlobal on 27 December that the rate of Southwest's cancellations and delays "is unacceptable and dramatically higher than other US carriers". Transportation Secretary Pete Buttigieg is reportedly probing the airline's disastrous holiday performance.
Southwest's calamitous week captured the most attention, but other carriers also struggled during the winter storm. For example, the Canadian government criticised Toronto-based leisure specialist Sunwing Airlines after an operational meltdown left hundreds of passengers stranded.
"Canadians are patient when it comes to weather disruptions but they rightly expect their airlines to keep them informed and to manage these disruptions smoothly," Canada's minister of transport Omar Alghabra wrote in a 28 December social media post.