Southwest Airlines paired its 28 April disclosure of a first-quarter net loss of $94 million and a cash burn of $900 million in April with the announcement of additional liquidity enhancements, as it looks ahead to a near-term environment virtually devoid of travel demand.
Looking back a year, when a coronavirus pandemic was merely a scenario predicted by epidemiologists and ignored globally by nearly everyone else, Southwest had a net profit of $387 million in the first quarter of 2019.
The Dallas-based airline's net operating profit after tax was $1.9 billion for the 12 months ended 31 March 2020, compared to $2.5 billion for the 12 months ended 31 March 2019.
Total operating revenue for the first quarter decreased 17.8% year-over-year, mostly because of a sharp decline in passenger demand and last-minute trip cancellations beginning in late February.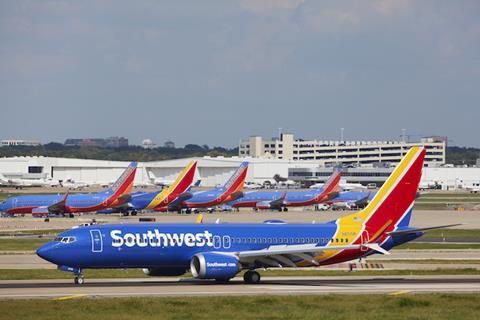 Revenue per available seat mile (RASM) in the first quarter dropped 11.8% compared to the first quarter of 2019. Non-fuel unit costs (CASM ex-fuel) were up 5.1% year-over-year.
Southwest's net cash burn in April of $900 million, not including working capital changes, reset the airline's sights on liquidity enhancements and cost cutting.
"We can't continue on at that pace," Southwest chief executive Gary Kelly said about cash burn during the 28 April earnings call.
Southwest estimates its second-quarter average core cash burn will be in the range of $30-35 million per day. This includes cash outflows, capital expenditures and debt service, but excludes the impact from cash sales, refunds and proceeds from financing transactions and the US CARES Act payroll support programme.
Southwest's strong balance sheet heading into the coronavirus pandemic will help it in its pursuit of liquidity. Now that Delta Air Lines has been downgraded, Southwest is the sole US carrier to lay claim to an investment-grade rating from Fitch Ratings.
On 16 March, Southwest enhanced its liquidity with a $1 billion term loan from a syndicate of banks. On 30 March, the company amended the size of the loan, adding $2.3 billion, and drew down the full amount of the loan, which matures March 2021. On 28 April, Southwest improved its liquidity position through a common stock offering and a $1 billion convertible bond.
Southwest will apply this week to the US Treasury for $2.8 billion in funds through the CARES Act's loan programme, and will have until 30 September to commit to accessing the five-year senior secured-term loan should it be awarded to the airline.
"That'll give us time to evaluate other financing options," Kelly says. "The thing about the loan programme is it carries a lot of conditions. We can't pay dividends during the time the loan is outstanding, plus a year. We can't do any share repurchases."
Chief financial officer Tammy Romo adds that the terms for the CARES Act loan programme are reasonable overall. "It's attractive that the loan is pre-payable at any time. It gives us a lot of options and it's certainly a wonderful backstop to have."
Southwest has already been awarded $3.3 billion in payroll support funds through the CARES Act; this comprises a direct grant of $2.3 billion and an unsecured 10-year low-interest loan of nearly $1 billion.
The airline ended the first quarter with liquidity exceeding $9 billion.
FLIGHT CANCELLATIONS, CAPACITY CUTS, STORED JETS
On 16 March, about three weeks after Southwest began to see the beginnings of a spike in flight cancellations, the airline completed 3,912 flights and cancelled 79 flights, Cirium schedules data shows. On 30 March, Southwest completed 2,073 flights and cancelled 1,912 flights, and on 24 April it completed 1,222 flights and cancelled 1,497 flights.
By 1 April, Southwest had deepened its March capacity cuts to 40% for travel between 3 May and 5 June. Capacity is expected to be down overall in the second quarter by at least 60%.
As of 23 January, Southwest had 709 Boeing aircraft in service and 37 Boeing aircraft in storage, 34 of which were 737 Max jets, Cirium fleets data shows.
As flight cancellations escalated, Southwest moved 106 737NG aircraft into long-term storage; the aircraft were selected based on their age and the proximity to an upcoming heavy maintenance requirement.
"For those aircraft in long-term storage it will take a minimum of three or four days to bring each of those aircraft current with respect to their maintenance programmes before they can be reintroduced into the active fleet," said chief operating officer Michael Van de Ven during the call.
Southwest is keeping approximately 250 737NG aircraft in a short-term parking programme in which the aircraft rotate in and out of active flying. "These aircraft do remain part of the active fleet and are more cost-effective in terms of storage costs," Van de Ven says.
FEAR OF FLYING
There is always the possibility the pandemic abates enough this summer to ease travellers' concerns over sitting in airports and on planes. Kelly hopes this will be the case and that Southwest's liquidity enhancements, capacity and spending cuts, fleet strategy and voluntary employee furloughs and pay cuts will suffice.
Hope aside, Kelly is planning for a recession that will depress business travel demand for a least five years and drain leisure travellers of disposable income. "This recession has already put tens of millions of Americans out of work, and consumer sentiment has been severely damaged."
If demand does not show promise by this summer then he foresees a smaller airline.
"We've got a commitment through September 30 with the payroll support programme of the CARES Act to not involuntarily downsize the airline," Kelly said. "If things don't improve we'll have to do something after that."
Southwest did see a "very gradual improvement" in demand in the second and third weeks of April.
"Right now, the bias is toward shrinking the airline some, not radically," Kelly said. "Hopefully, we won't have to face that scenario but, if we do, we'll have a plan."
In either case, Kelly believes that as the pandemic winds its way toward its eventual end, airlines that offer the lowest fares will win the day. "Every traveller will demand a low fare. That's our business model."