Southwest Airlines has warned a group of employees that their jobs are in danger after talks with the workers' union about cost-cutting measures across the company broke down.
They would be the Dallas-based carrier's first involuntary furloughs resulting from the coronavirus-driven downturn in the air transport industry.
The airline says on 6 November that negotiations with the International Brotherhood of Teamsters, which represents the carrier's material specialists, a group of employees who oversee inventory management for the Technical Operations Team, had ended.
The airline is currently speaking to representatives of all of its work groups in order to avoid furloughs through the end of next year.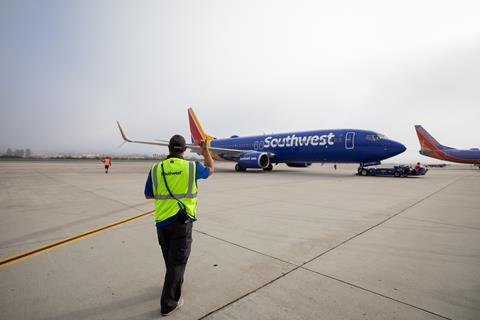 These are the first furloughs the company has made since government financial aid for airlines, enshrined in the CARES Act, ran out last month. Southwest was one of just a handful of airlines that did not furlough employees on 1 October when the payroll support ended.
"Without continued conversations, and with no cost-savings agreement in place, 42 material specialists received Worker Adjustment and Retraining Notifications (known also as WARN) notices on Friday as formal notification that involuntary furloughs will take place in January 2021, unless we reach cost-saving agreements or the government enacts a satisfactory payroll support programme extension," the airline says in a statement.
"This is not the result we hoped to achieve, as the affected material specialists are valued members of the Southwest family," adds Russell McCrady, vice-president of labour relations at Southwest. "We are not closing the door to further discussions, should the International Brotherhood of Teamsters want to re-engage quickly in negotiations to save these employees' jobs."
In October, Southwest said it was planning to cut employee pay across the company – an effort to prevent furloughs through the end of 2021.
The payroll support programme, part of the US government's financial aid package, had prohibited layoffs through September, when it expired. Unions, airlines and trade groups have been lobbying lawmakers in Washington, DC for an extension, but so far without success,
On 22 October, the carrier reported a $1.2 billion loss for the third quarter, compared to a $659 million profit in the same period last year, bringing the company's losses for 2020 to more than $2.2 billion.