Southwest Airlines now expects its fourth quarter financial results will be better than previously anticipated, and predicts it will turn profits in the period and in 2022.
"We expect to be solidly profitable next year," says Southwest chief financial officer Tammy Romo during an investor presentation on 8 December. She adds that demand for leisure travel has recently been "above expectations".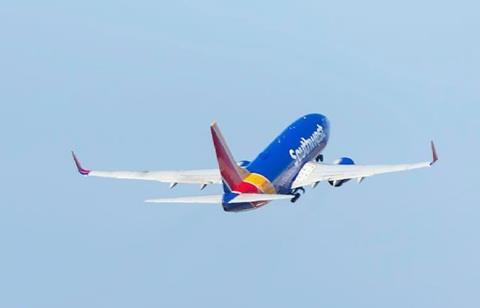 The Dallas-based airline now anticipates its fourth-quarter operating revenue will be 10-15% less than in the fourth quarter of 2019. Previously, Southwest predicted fourth-quarter operating revenue would be 15-25% less than in the 2019 period.
The airline has also tweaked downward its expected fourth-quarter fuel expense by ten cents, to $2.15-$2.25 per gallon.
"I am pleased to share that [Southwest's] fourth-quarter operating outlook has improved," Romo says, adding that demand and yields recovered following this year's wave of infections by the Delta coronavirus variant.
Also on 8 December, Southwest disclosed it intends in 2022 to begin selling a "new fare product" that will be in addition to Southwest's three existing fares. Those existing fares include a "Wanna Get Away" discount fare, an "Anytime" fare and a "Business Select" fare.
Southwest chief commercial officer Andrew Watterson describes the new fare as an "up-sell" and "enhancement" to "Wanna Get Away" tickets, saying the change will "help close the gap between our existing fare products".
The new fare, and an updated agreement with Southwest-branded credit card provider Chase, should help buoy Southwest's earnings by $1-1.5 billion in 2023, and half that in 2022, the airline says.