Southwest Airlines is requiring all employees to be vaccinated against Covid-19 by December in order to comply with a US federal mandate, and to keep their jobs.
The Dallas-based low-cost carrier says on 4 October that it has "completed a thorough review" of the executive order requiring vaccination for federal employees and contractors, signed by President Joe Biden last month. The airline has come to the conclusion that it too must comply with the order.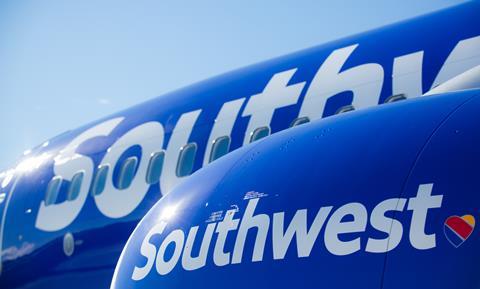 "Employees of Southwest Airlines must be fully vaccinated against Covid-19, or be approved for a religious, medical, or disability accommodation, by Dec. 8, 2021 to continue employment with the airline," the company says.
"Southwest Airlines must join our industry peers in complying with the federal government's Covid-19 vaccination directive," adds chief executive Gary Kelly. "I encourage all Southwest employees to meet the federal directive, as quickly as possible, since we value every individual and want to ensure job security for all."
That leaves Delta Air Lines as the last major US passenger carrier to hold out on making its workers get the vaccine. The airline has, however, imposed a $200 monthly surcharge on all workers who receive their health care through the carrier.
On 3 October, Atlanta-based Delta's chief executive Ed Bastian said that the airline was "studying" the executive order, and that it had not yet come to a decision on mandating the vaccine for its workers. He added that 84% of the airline's employees had been vaccinated as of that date, and that he anticipated that number to be "well over 90%" by early November.
United Airlines, meantime, took a different approach. It was the first US airline to demand its employees be vaccinated. The carrier's chief executive Scott Kirby says on 4 October that 99.7% of its workers have taken the vaccine, and those who did not comply with the directive are in the process of separating from the company.
"The pandemic is in the rear-view mirror for us," Kirby tells delegates at the IATA Annual General Meeting in Boston.
In recent days, American Airlines, JetBlue Airways and Alaska Airlines have all informed their staffs that they will be required to be vaccinated under the executive order. The order directs all federal workers and contractors be vaccinated, and companies with more than 100 employees must require their workers to have received immunisation against the coronavirus or submit to weekly testing.
In the past week, pilot unions at American and Southwest have appealed to the government for an exception to the vaccine mandate for their members. In a letter to aviation regulators, the White House, and other high-ranking policymakers in Washington DC, American's pilot union Allied Pilots Association (APA) warned that forcing pilots to get the Covid-19 vaccine could lead to "mass terminations" and a travel crunch in the traditionally busy end-of-year holiday season.