Southwest Airlines chief executive Bob Jordan spoke publicly for the first time about the company's widespread operational difficulties during the busy end-of-year holiday travel period, promising that the airline's passengers and employees will "never again face what's happening right now".
"Cities with large numbers of scheduled flights simultaneously froze as record bitter cold brought challenges for all airlines," Jordan said in a 27 December video posted to the airline's website and on social media. "Our network is highly complex, and the operation of the airline counts on all the pieces – especially aircraft and crews – remaining in motion."
As a result of the winter storm that pummelled much of the Midwest and Northeast USA over the weekend, Southwest's fleet and crews were out of position "in dozens of locations", he said. "We reached a decision point to significantly reduce our flying to catch up."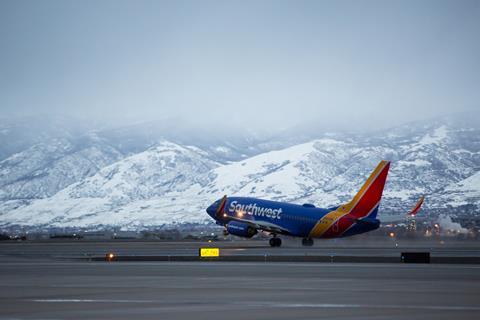 The airline was forced to cancel and delay thousands of flights across its network. As of 16:45 Pacific Time on 27 December, Southwest had cancelled 2,666 flights and delayed a further 943, according to the flight-tracking website FlightAware.com.
The airline has also pre-emptively cancelled more than 4,200 flights in the coming two days, so far.
The Southwest Airlines Pilot Association (SWAPA) says the airline's antiquated scheduling software is largely to blame for the operational failures, which have resulted in parked aircraft and stranded thousands of Southwest flight crews and hundreds of thousands of holiday air travelers.
"That software just can't keep track of where we are at any given time," Michael Santoro, vice-president of SWAPA, told FlightGlobal on 27 December. "When they lose track of where pilots are the system just breaks down, and that's what happened."
The rate of Southwest's cancellations and delays "is unacceptable and dramatically higher than other US carriers," the US Department of Transportation (DOT) told FlightGlobal on 27 December. "This afternoon, Secretary [Pete] Buttigieg spoke with the CEO of Southwest Airlines and conveyed that he expects the airline to live up to the commitments it has made to passengers, including providing meal vouchers, refunds, and hotel accommodations for those experiencing significant delays or cancelations that came about as a result of Southwest's decisions and actions."
As with all US airlines, Southwest is obligated to provide cash refunds for passengers whose flights were cancelled and who decided not to travel, the DOT adds.
The Dallas-based discount airline hopes to resume normal operations by the beginning of next week, Jordan says, acknowledging that Southwest's software systems need an overhaul.
"Clearly, we need to double down on our already existing plans to upgrade systems for these extreme circumstances so that we never again face what's happening," he says. "I'm apologizing to [employees] daily, and they'll be hearing more about our specific plans to ensure the challenges that they face the past few days will not be part of our future."