Southwest Airlines' chief executive Gary Kelly has reiterated that there will be no involuntary furloughs or pay cuts at the Dallas-based carrier through the end of the year, whether or not the federal government extends the US CARES Act's payroll support programme.
Kelly had told employees in a 1 October video statement that Southwest will be able to avoid involuntary furloughs this year, even as he and his executive peers at other US airlines were lobbying the White House and Congress to extend PSP support.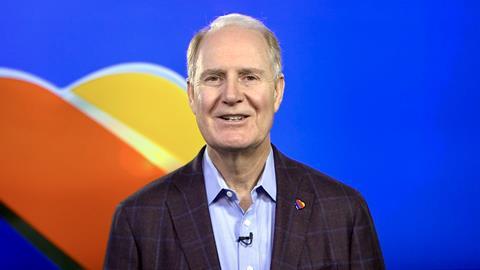 In a 5 October video statement sent to employees, he added the clarification that management is now reaching out to union representatives to negotiate pay-cut concessions, with a target of reaching agreements by 1 January 2021.
"My goal has been and it remains, no furloughs," Kelly says. "If we fail to reach agreement on reasonable concessions – quickly – that will have to be the last resort. We simply don't have time for long, drawn-out, complex negotiations."
Kelly says his "already reduced" salary has been cut to zero, effective immediately, and that he will not collect a salary through the end of 2021. Existing 20% salary cuts for some senior executives will likewise be extended through 2021.
Southwest will cease pay-cut negotiations and reverse all pay cuts if the federal government extends the payroll support program.
"We've been blessed to be rewarded in the good times, and over our almost 50 years, they're almost all, remarkably, very good times," Kelly says. "But, it's just a law of nature: we're going to have bad times, and going to have to sacrifice in the really bad times. And, it's really bad."