Spirit Airlines doubled sales in the first quarter as demand trends showed a "dramatic improvement" in the later part of the period.
Revenue at the Miramar, Florida-based ultra-low-cost carrier doubled to $967 million from $461 million in the same quarter in 2021. That's also higher than the $856 million it reported in the first quarter of 2019.
Costs also more than doubled, to $1.18 billion, leaving the company with a loss of $195 million for the quatrer. In the same three months last year, Spirit said it lost $112.3 million.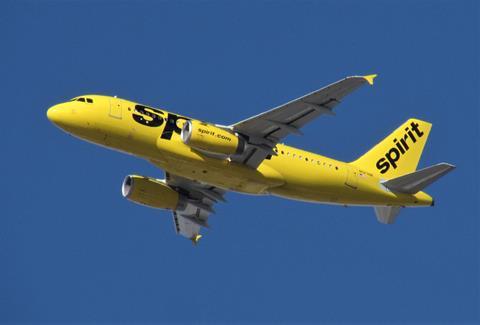 "Since mid-February 2022, we've seen a dramatic improvement in demand trends, with March total revenue per passenger segment up nearly 10% compared to March 2019," says chief executive Ted Christie.
Capacity as measured in available seat miles (ASMs), in the first quarter 2022 rose 19.2% over the same period in 2019. The airline's load factor was 77.2%, down 5.5 percentage points compared to the first quarter of pre-pandemic 2019.
"Load factors improved sequentially throughout the quarter such that the exit rate for March load factor was in line with the company's historical averages," Spirit says.
That said, the company is contending with staffing shortages across the board, leading it to cut planned capacity growth for 2022. In addition to its own issues, air traffic control problems in Florida, "largely driven by… staffing shortages" have "had an out-sized impact on our operations given our large concentration in Florida," says Christie.
"In mid-April, we made the decision to decrease some flying in Florida and increase the buffers in our schedule, which drove additional capacity reductions," he adds. "We expect to resume our planned capacity levels in the fourth quarter this year due to already-planned crew network changes set to deploy this summer and increased pilot hiring that has been happening throughout the year."
Spirit took delivery of three new A320neo aircraft during the first quarter 2022, bringing its fleet to 176 aircraft.
The company was tight-lipped about its pending acquisition by ULCC rival Frontier Airlines and released no new information. In February, Frontier had made an offer for the airline worth $2.9 billion.
Earlier this week, though, Spirit confirmed that it declined a subsequent surprise bid from JetBlue Airways, due to concerns that that potential transaction would not receive Department of Justice (DOJ) anti-trust clearance.
Spirit will hold a webcast on 5 May to give more information about its first quarter earnings and outlook for the rest of the year.