Spirit Airlines is still searching for "sustained profitability" after losing $271 million during the fourth quarter of 2022, compared with a $87 million loss during the same three months of 2021.
The Miramar, Florida-based discount carrier – which has been slow to recover from the Covid-19 pandemic – generated $1.4 billion in revenue during the fourth quarter, up 41% from the $988 million it made the previous year.
"We made excellent progress on the steps necessary to return Spirit to sustained profitability," Ted Christie, Spirit's chief executive, said on 6 February.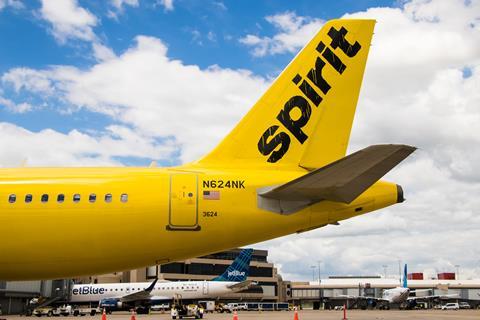 For the full year, Spirit made $5.1 billion in revenue, compared with $3.2 billion in 2021. The airline posted a $554 million loss in 2022, while it lost $473 million the previous year.
"Leisure demand has remained strong, and our team is doing a great job maximising revenue production," Christie says. "In the fourth quarter 2022, despite a significant number of weather-related flight cancellations during the peak holiday period, our team delivered better-than-expected unit revenue performance."
However, the carrier struggled to arrive at airport terminal gates within 15 minutes of schedule, as its on-time performance was 73% during the fourth quarter. Meanwhile, the airline's completion factor was 97%.
Operating expenses totalled $5.7 billion for the full year of 2022, up 72.4% from $3.3 billion in 2021, Spirit reports.
Aircraft utilisation during the fourth quarter was 10.8 hours per day, on par with the airline's 2021 performance, but down compared with the 11.7 hours the airline reported in 2019 – the last year unaffected by Covid-19. Spirit cited "continued constraint on flights to and from Florida" as well as "staffing challenges" for its continued struggles with aircraft utilisation.
"Despite some unexpected setbacks with geared turbo fan engine availability issues, a continued stressed industry infrastructure and other issues, we have been steadily building back to full fleet utilisation and are on track to be close to full fleet utilisation by the end of 2023," says Scott Haralson, Spirit's chief financial officer. "These issues, together with Airbus aircraft delivery delays, have led us to be more conservative with our capacity planning assumptions for 2023." The airline anticipates that its full-year capacity for 2023 will be up 19% to 22% from the year before.
Spirit is tentatively set to be acquired by rival discount carrier JetBlue Airways in a deal pending federal regulatory approval. The potential tie-up was approved by Spirit shareholders on 19 October 2022. "Spirit and JetBlue expect to conclude the regulatory process and close the transaction no later than the first half of 2024," Spirit said on 6 February.
The company added 2,200 employees in 2022, raising its total workforce to about 12,400. On 10 January, Spirit pilots represented by the Air Line Pilots Association, International (ALPA) approved a new two-year contract that represents a $463 million pay gain. Notably, the deal could be renegotiated if Spirit's pending acquisition by JetBlue collapses in coming months.
Amid its ongoing fleet renewal strategy, Spirit added 10 Airbus A320neos to its all-Airbus fleet in the fourth quarter and ended the year with 194 aircraft.
Last month, Spirit entered an agreement to sell 29 Airbus A319ceos to Gryphon Trading Company for $152 million to $201 million, depending on price adjustments in the deal. Under the agreement, dated 13 January, Spirit will deliver the aircraft beginning in the first quarter of 2023 through the end of third-quarter 2024.
Spirit expects to remove 14 and 15 of the A319ceos from its fleet in 2023 and 2024, respectively.