Spirit Airlines has reported a steep third-quarter loss but is eyeing an upturn, anticipating a bump in demand for leisure air travel during the upcoming end-of-year holidays.
The Miramar, Florida-based carrier lost $99 million in the quarter ended in September, on revenue of $402 million, the airline reports on 29 October. Revenue was down 60% from the same period a year ago.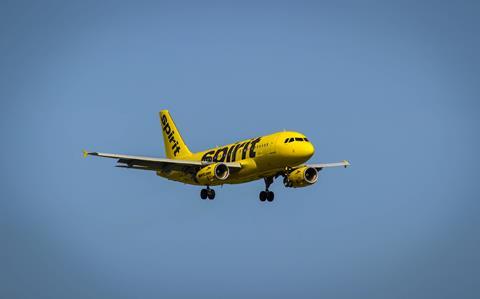 That said, the leisure side of the industry is showing promising signs of recovery, as customers looking for cheap, easy getaways make travel plans for the all-important Thanksgiving and Christmas travel season.
"History is repeating itself: leisure travellers are much more resilient and they clearly prefer products that offer the lowest price for travel," says chief executive Ted Christie on the company's quarterly analyst call. It is, he says an "incredibly dynamic time" for the airline.
The company's average daily cash burn in the third quarter was $2.3 million, which it expects to reduce to $2 million daily by the end of the current quarter.
Christie said Spirit's October load factor was "in the mid-70s" on reduced capacity. That shows that interest in travel by air is returning.
Spirit's network is traditionally strong to warm-weather destinations in the southern and the western USA. The airline's home base is Fort Lauderdale-Hollywood International airport, just north of Miami, and more than 50% of Spirit's flights touch Florida.
The coronavirus threatened to completely disrupt the airline's summer travel season. But, executives say, once customers saw that attractions at holiday destinations were beginning to open, they were ready to travel again.
"As there are more things to do – for example, once the beaches opened up in Florida and remained open – people from up north knew there were things to do when they got [there]," says chief commercial officer Matt Klein. "There was some impact early on from our geography, and it feels like that has rebounded and we are set up for the holidays."
For the last quarter of the year, Spirit expects revenue will hover at levels 43-45% less than a year ago, with capacity down about 25%.
The airline's revenue from domestic flights is outperforming that from international flights, primarily due to other countries' travel restrictions and quarantine requirements, Klein adds. Spirit's network includes 25 destinations in Latin America and the Caribbean, some of which have only recently re-opened to international arrivals.
But like its peers, the carrier is keeping a close eye on coronavirus case counts across the USA, which are again rising.
"We are mindful that the recovery may still be a little bit bumpy and there will be some noise as demand recovers to pre-Covid levels," says Klein.
The US Transportation Security Administration (TSA), which on 18 October reported screening more than one million passengers for the first time since the beginning of the global health crisis in March, has in recent days seen that number decline again.
On 28 October, the TSA screened just 666,957 passengers across its network of nearly 450 airports nationwide.
"We haven't seen anything yet that would reflect that our booking trends have moved," Christie says. "It's possible that the flux in TSA capacity may be related to other demand segments."
The all-Airbus airline took delivery of one new A320neo during the quarter that ended in September, bringing its total aircraft count to 155. It expects to end the year with two additional Airbus jets and to take delivery of 16 new aircraft in 2021.