Spirit Airlines is continuing to supply information about its proposed acquisition by Frontier Airlines to the US Department of Justice (DOJ) – even though Spirit has said a competing acquisition offer from JetBlue Airways may be superior.
Miramar, Florida-based Spirit on 13 April received a request from the DOJ for more information about the Spirit-Frontier combination, Spirit says on 14 April. Frontier says it received a similar request from the government.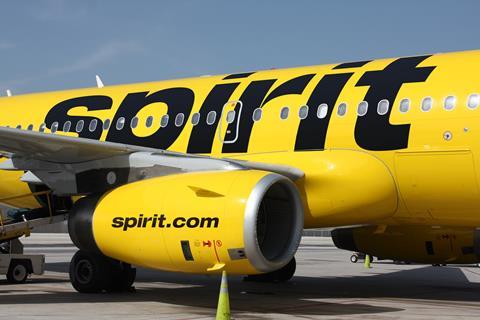 "Spirit remains bound by the terms of the merger agreement with Frontier and will continue to voluntarily provide information to the DOJ in order to facilitate its review of the proposed transaction," ultra-discounter Spirit says in a regulatory filing.
Frontier, based in Denver, bid on 7 February to purchase Spirit with cash and stock that, at the time, was worth about $2.9 billion. The deal calls for Frontier to compensation Spirit shareholders $2.13 and 1.9 shares of Frontier stock for every share of Spirit.
Then on 6 April, New York-based JetBlue swooped in with a competing all-cash offer to buy Spirit. JetBlue offered to purchase all Spirit shares at $33 each, which equates to a purchase price of $3.6 billion.
Spirit has said it is considering both offers, but also called JetBlue's bid a likely "superior proposal".
But Spirit's decision might come down to more than money. Another likely factor at play is the opinion of the DOJ, which will review both deals for potential violations of anti-trust laws. The DOJ is already fighting JetBlue in court, having sued the carrier and partner American Airlines to stop those airlines from implementing a broad partnership in the Northeast USA.
In a 14 April regulatory filing, Frontier says it and Spirit have "over the last several weeks… been voluntarily providing information to the DOJ in order to facilitate its review of the proposed transaction, and will continue to do so over the coming months".
"We look forward to demonstrating the consumer benefits inherent in the Frontier and Spirit combination at a time when JetBlue has made a proposal that would reduce competition and lead to more expensive travel for consumers," Frontier's filing adds.