Spirit Airlines confirms it declined JetBlue Airways' takeover bid due to concern that the proposed merger would not receive Department of Justice (DOJ) anti-trust clearance.
"In reviewing JetBlue's unsolicited proposal, the board, in consultations with Spirit's financial and legal advisers, carefully considered numerous factors and concluded that the Spirit stockholders would shoulder most of the very substantial risk that the JetBlue transaction would not receive anti-trust approval," Spirit Airlines' chief executive Ted Christie writes to the airline's officers on 2 May.
"The board continues to believe the pending transaction with Frontier remains in the best interest of Spirit and its shareholders, and we intend to continue advancing toward completion of the transaction."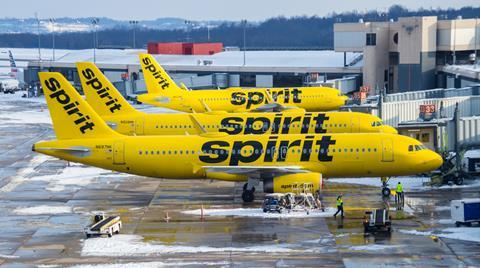 The Miramar, Florida-based ultra-low-cost carrier (ULCC) earlier in the day rejected JetBlue's revised offer, favouring a competing proposal from Frontier Airlines.
Frontier on 7 February had put forward a deal to purchase Spirit with cash and stock that at the time was valued at $2.9 billion.
JetBlue shot back on 6 April with a competing, all-cash offer to buy Spirit for $33 per share, or $3.6 billion. JetBlue said at the time that it planned to dismantle Spirit as a ULCC, using Spirit's assets to expand JetBlue. The New York-headquartered carrier revised the terms of the agreement on 2 May, to allay concerns about its so-called "Northeast Alliance" (NEA) with American Airlines.
The NEA - which focused on flights into and out of the Northeast USA hub cities of Boston and New York – is also under DOJ scrutiny, with numerous airlines, including Spirit and Southwest Airlines, having voiced concern about JetBlue's collaboration with American.
"The DOJ and attorneys general in six states and Washington, DC have sued to block the NEA, and we do not believe the DOJ will be persuaded that JetBlue should be allowed to acquire Spirit in an anti-competitive move that would eliminate the largest ULCC carrier," Christie says.
"In contrast, Spirit believes that merging with Frontier will enable the combined ULCC to achieve scale, improve reliability, have increased relevance to consumers, and do an even better job of delivering ultra-low fares to more consumers and competing more effectively against the Big 4 carriers, as well as against JetBlue," the note states.
Spirit and Frontier have said that they expect the acquisition to be complete in the second half of the year.