JetBlue-bound discount carrier Spirit Airlines cut its pre-tax losses for the second quarter to $67.5 million as better-than-expected revenues helped counter higher fuel costs for the period.
The figure is an improvement on the $273.3 million pre-tax loss the low-cost carrier made in the second quarter of last year, and on the $244 million it lost in the first quarter of this year.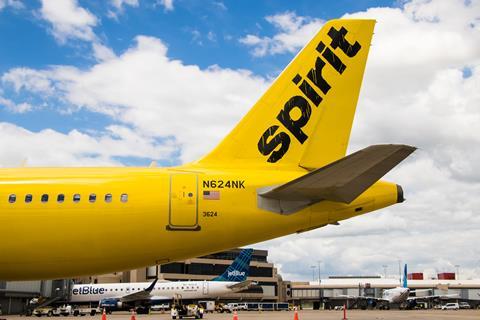 Notably, second-quarter revenues of $1.37 billion were not only 59% up on 2021 levels, but also 35% higher than pre-Covid levels in 2019. Spirit's ASK capacity stood about 10% above 2019 levels in the quarter.
Spirit, which hopes to seal a merger with JetBlue in 2024 after approving an acquisition offer from the carrier at the end of July, posted a net loss of $52.4 million on an unadjusted basis.
Spirit Airlines president and chief executive Ted Christie says: "Top line revenue growth in the second quarter of 2022 exceeded our expectations, driving a better-than-expected adjusted pre-tax margin despite much higher than anticipated fuel prices."
Operating expenses climbed 84% compared with the second quarter of 2021, reflecting increased capacity, higher fuel and wage costs. Fuel costs surged from $215 million to $559 million year-on-year during the quarter.
Christie also highlights an improved operational performance across the quarter after "a rough start" to the period.
"We implemented key operational changes and quickly saw meaningful improvements in our operational reliability and recoverability," he says. "We finished the quarter on a strong note with a 98.8% completion factor for June."
Spirit chief financial officer Scott Haralson says that for the third quarter the carrier "continues to face constraints" that limit its ability to optimise its network and operate its full fleet.
"One of the primary limiters is the continued constraint on US continental flights to/from Florida," he says. "Therefore, while demand trends continue to be strong as we head into the off-peak shoulder season, we are estimating pre-tax margins will be between negative one percent to positive one percent for the third quarter 2022."