In the latest twist in the drama around Frontier Airlines' proposed acquisition of ultra-low-cost carrier Spirit Airlines, Spirit has delayed a key shareholder vote that had been scheduled for later this week.
The Miramar, Florida-based carrier says on 8 June that it rescheduled the 10 June shareholder meeting for 30 June as it considers a competing acquisition offer from JetBlue Airways.
"The special meeting was postponed to allow the Spirit board of directors to continue discussions with Spirit stockholders, Frontier and JetBlue," the company writes in a filing with the US Securities and Exchange Commission.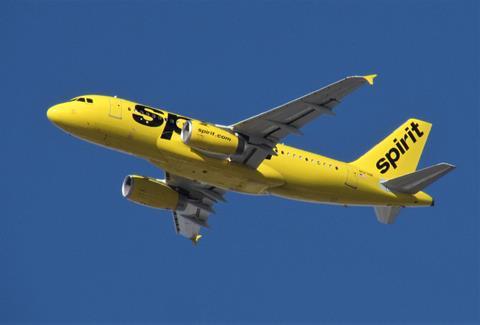 In February, Frontier and Spirit unveiled plans to merge, saying a combination would make them a strong competitor against the US market's "big four".
JetBlue then made a competing unsolicited bid for Spirit in April. It has aggressively courted the airline, appealing directly to shareholders and employees while accusing Spirit of not negotiating in good faith. Spirit's board has thrown its support behind a combination with Frontier, not with JetBlue.
Either merger would create the fifth-largest carrier in the USA.
JetBlue calls Spirit's delaying the vote "a necessary first step toward genuine negotiations between the Spirit board and JetBlue".
"Spirit shareholders are clearly urging the Spirit board to engage with us constructively and provide us with the same information previously made available to Frontier so that we can reach a consensual transaction," New York-based JetBlue says.
"The improved proposal we submitted to the Spirit board earlier this week clearly offers the most compelling value available for Spirit stockholders and we remain fully committed to acquiring Spirit," JetBlue adds. "We are confident a combined JetBlue-Spirit will create a true national competitor to the dominant big four carriers that will result in lower fares and better service for customers, while offering Spirit shareholders the most attractive value creating opportunity available to them."
On 6 June, JetBlue sweetened its offer for the Florida carrier by agreeing to pay a $350 million fee if regulators torpedo the deal due to antitrust reasons. JetBlue also agreed to pre-pay that termination fee to the tune of $1.50 per share to Spirit stockholders, or about $150 million. That provision brings to total value of JetBlue's offer to $31.50 per share of Spirit's stock, or about $3.4 billion.
But Spirit's board has repeatedly thrown its support firmly behind Denver-based Frontier on grounds that JetBlue's proposal would be unlikely to clear regulatory scrutiny. Last week, Frontier also added a $250 million termination fee to its offer, payable if regulators block the deal.
Frontier did not immediately respond to a request for comment on Spirit's shareholder vote delay.