Ultra-low-cost carrier Spirit Airlines has once again delayed a planned shareholder vote on its potential acquisition to give it more time to negotiate with its two potential suitors, Frontier Airlines and JetBlue Airways.
The vote was to have been held on 30 June.
"Spirit Airlines today announced that it intends to open and immediately adjourn its special meeting of stockholders relating to the proposed merger agreement with Frontier Group Holdings, Inc….to allow the Spirit board of directors to continue discussions with Frontier and JetBlue Airways," the Miramar, Florida-based airline says on 29 June.
"There will be no voting or other matters conducted at the meeting on June 30, 2022, and the company intends to reconvene the special meeting on July 8, 2022 at 11:00am ET," the company adds.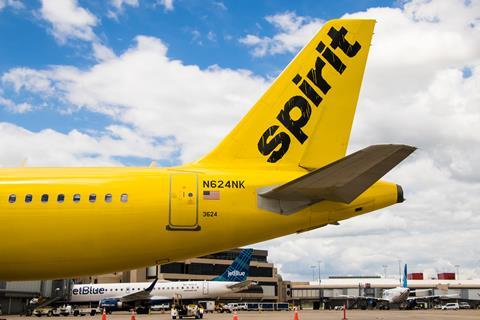 It's the second time Spirit has pushed back the meeting. It was originally scheduled for 10 June.
The new delay comes amid JetBlue's push to convince Spirit shareholders to reject the Frontier bid, and go with its unsolicited takeover plan.
"JetBlue is 100% committed to getting this deal done and creating the most compelling national competitor to the dominant Big Four airlines, bringing lower fares and a better experience to more customers, more value to shareholders, and new opportunities for crew and team members of both companies," the carrier says on 29 June.
In the past week both Frontier and JetBlue have increased their offers for Spirit, attempting to woo shareholders to their side. And the tone of the communication amongst the three carriers is becoming increasingly raw.
While JetBlue maintains that its offer is "decisively superior", and has taken its arguments to shareholders directly, Frontier fired back on 28 June, accusing JetBlue of being untruthful about its offer.
"A Spirit acquisition by JetBlue would lead to a dead end - a fact that no amount of money, bluster, or misdirection will change," Frontier says. "And the only value Spirit stockholders would be likely to receive from JetBlue's proposal is the reverse termination fee, because JetBlue's proposal lacks any realistic likelihood of obtaining regulatory approval."
The tug-of-war for the Miramar, Florida-based discount airline has been ongoing since February. Denver-based Frontier and Spirit announced on 7 February that they would combine forces through a cash-and-stock deal, creating the fifth-largest airline in the USA. Two months later, JetBlue initiated a hostile all-cash takeover of the company with the intention of dismantling it.
Since then, Spirit and JetBlue have been trading acidic barbs over a potential transaction, with JetBlue calling foul, and claiming Spirit did not give its offer the same attention as it had Frontier's.
In the past week, both Frontier and JetBlue have upped their offers to shareholders, as well as reverse-termination fees in the case of an unsuccessful transaction.
Spirit's board of directors has repeatedly recommended shareholders vote for the Frontier offer.