Shortly after reporting a hefty fourth-quarter loss, Spirit Airlines moved Scott Haralson into the role of executive vice-president and chief financial officer.
Haralson joined the company in 2012, holding various corporate finance management positions. He assumed the CFO role in 2018 and will continue providing "financial management, planning and guidance", the airline said on 7 February.
Spirit lost $271 million during the fourth quarter of 2022, compared with an $87 million loss during the same three months of 2021, as operating expenses surged and the carrier struggled with its on-time performance and aircraft utilisation.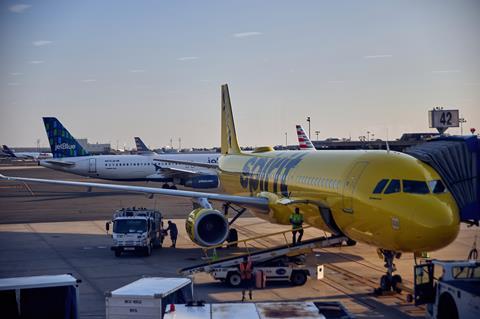 Haralson's title change comes with a salary increase and incentives tied to the airline's adjusted operating margin, Spirit discloses in a filing with the US Securities and Exchange Commission.
The Miramar, Florida-based low-cost carrier is expecting a decision from the US Department of Justice (DOJ) on a proposed $3.8 billion acquisition by competitor JetBlue Airways within the next 30 days, chief executive Ted Christie said during the company's fourth-quarter earnings call on 7 February.
"We are now waiting to see if the DOJ files suit to block the deal or allows us to proceed," he said. "We anticipate hearing from the DOJ in the next 30 days or so and that's really all we have to say on that topic for now."
On 19 October 2022, Spirit's shareholders voted to approve the deal, which Christie called "an important step forward on our path to closing a combination that will create a compelling low fare challenger to the dominant US carriers".
Approved by Spirit's board of directors on 28 July 2022, the deal calls for New York-based JetBlue to buy Spirit by the first half of 2024. But the proposed tie-up still needs approval from the DOJ, which is scrutinising the elimination of a low-cost carrier from the market.