Spirit Airlines will engage in discussions with JetBlue Airways about the latter's proposed $3.6 billion all-cash takeover offer.
The Florida-based ultra-low-cost carrier confirms that the bid from JetBlue "could reasonably be likely to lead to a superior proposal", but stresses that "there can be no assurance" discussions with JetBlue will lead to a transaction.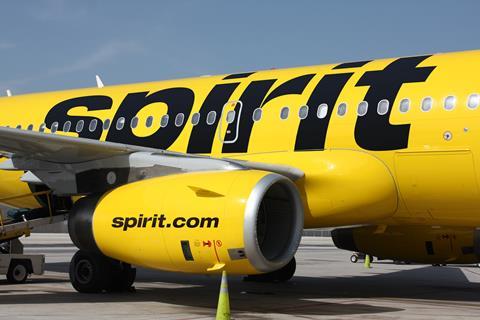 On 5 April, New York-headquartered carrier launched a surprise bid for Spirit's outstanding stock, throwing into doubt a planned merger between Spirit and ultra-low-cost rival Frontier.
At $33 per share, JetBlue's offer is at an almost 30% premium over the price Frontier Airlines offered for Spirit less than two months ago.
"Spirit intends to engage in discussions with JetBlue with respect to JetBlue's proposal, in accordance with the terms of the company's merger agreement with Frontier," the carrier says.
Welcoming Spirit's decision to discuss the takeover bid, JetBlue chief Robin Hayes says: "We believe JetBlue is the best partner for Spirit, and we look forward to engaging with the Spirit board to finalise our combination, to create a national low-fare challenger to the four large dominant US carriers that will result in lower fares and better service for customers."
Following news of JetBlue's unsolicited offer, Frontier warned that a JetBlue-Spirit merger would make for higher fares and reduced competition.
On 7 February, ultra low-cost rivals Spirit and Frontier said they were looking to join forces in a merger that was valued at $6.6 billion and promised combined annual revenue of $5.3 billion based on the airlines' respective 2021 financial results.
They said then that the deal, which was expected to close in the second half of 2022, would create 10,000 direct jobs by 2026 and deliver annual operating synergies worth up to $500 million.