Spirit Airlines' pilots have agreed to work fewer hours as part of a deal that will prevent the airline from needing to lay off 600 of pilots.
The Air Line Pilots Association, International (ALPA) says nearly half of Spirit's pilots will "temporarily work fewer hours each month" to prevent the layoffs, which would start as soon as 1 October.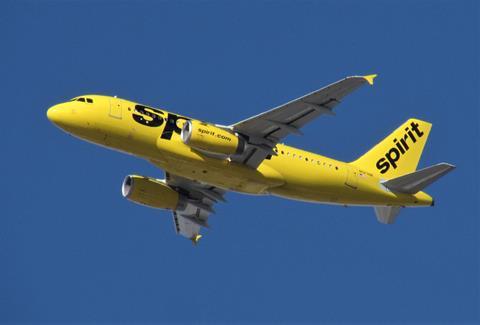 On that day, US airlines that received financial aid through a US government coronavirus relief bill can begin laying off staff. The bill prohibits airlines that took money from laying off workers until then.
"Spirit Airlines' pilots and management worked together to reach an agreement that mitigates the remaining furloughs planned for October 2020," Scott Vallach, chairman of ALPA's Spirit Airlines council, says. "Effective immediately, the 600 planned furloughs have been cancelled."
ALPA notes that airlines industry-wide have warned more than 11,000 US pilots that they may lose their jobs come October.
More broadly, some 80,000 US airline industry jobs may be at risk due to looming downsizing, according to carriers.
"Currently, dozens of other ALPA pilot groups are exploring various furlough mitigation plans to preserve as many jobs as possible until the industry recovers," the union says.