Stobart Group has agreed with the administrators of Connect Airways to buy back Irish regional carrier Stobart Air and aircraft lessor Propius in a deal aimed at managing outstanding financial commitments.
The move follows the collapse earlier this year of Flybe, which had been acquired a year ago by the Connect Airways consortium in which Stobart held a 30% stake. Neither Stobart Air nor Propius – which operated independently within Connect – have been affected by Flybe's administration.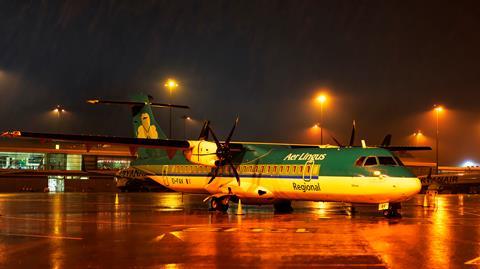 The move is aimed at resolving financial obligations that had remained with Stobart Group relating to the two companies.
Stobart Group chief executive Warwick Brady says: "This transaction allows Stobart Group to take control of the outstanding legacy issues which date back to 2017 when Stobart Air and Propius became subsidiaries of the company.
"The original strategy to mitigate these issues over time through the combination of the businesses with Connect was impacted by the failure of Flybe and resulting administration of Connect in March 2020.
"We believe that Stobart Air has a viable future after Covid-19 and are working with Aer Lingus as our franchise partner to place the business on a secure footing and manage the impact of the legacy obligations in a controlled manner," he says.
The group is a guarantor for various obligations of Propius following an aircraft sale-and-leaseback arrangement struck in April 2017, including maintenance commitments under the aircraft leases.
"Guarantees were also granted by Stobart Group with respect to the obligations owed by Stobart Air arising under the franchise agreement with Aer Lingus and certain fuel and currency hedging arrangements entered into when the businesses were under Stobart Group ownership."
Stobart says its board reviewed a number of options, including allowing Stobart Air and Propius to enter some form of insolvency, but concluded that "the best course of action financially" was to buy back Stobart Air and Propius.
Stobart Group will pay up to £8.55 million ($10.6 million) for the two units. That includes £300,000 on completion, £2 million by 15 December 2020 and a maximum of £6.25 million based on the equity value of the businesses before December 2023. The investment will give Stobart Group an effective indirect economic interest of 78.75% in Stobart Air and Propius.
The company says it will continue its "positive dialogue" with Aer Lingus to reach a long-term franchise extension. Regional specialist Stobart Air has operated franchise flights for Aer Lingus since 2010.
But Stobart Group adds that its aviation strategy has not changed as a result of this transaction and that it will ultimately seek new investors for the units.
"The company will work with Aer Lingus to identify a new financial partner to support the business for the future with Stobart Group exiting its involvement in a controlled way at the appropriate time," it says.