Stobart Group has confirmed it is in "early stage" discussions with a number of parties including Falko Regional Aircraft over the possible sale of its regional arm Stobart Air and aircraft lessor Propius.
The statement to the London Stock Exchange follows a report today in the Irish Independent which says Stobart is in advanced talks to sell its Dublin-based regional carrier to Falko.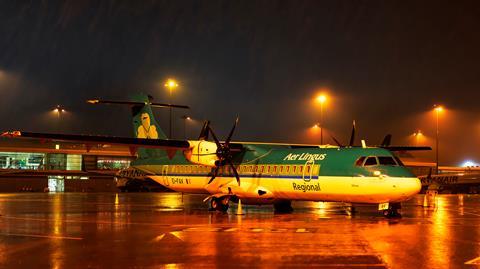 Stobart Group bought back regional carrier Stobart Air and lessor Propius earlier this year from the administrators of Connect Airways, just a year after the units had been acquired by the consortium – in which Stobart held a 30% stake.
The move was aimed at mitigating its financial exposure – which dates back to 2017 – and at the end of July Stobart said it had begun "early discussions with potential partners" around the long-term future of the business.
"As part of this process, we can confirm that we are in early stage discussions with a number of parties including Falko Regional Aircraft Limited regarding the potential sale of Stobart Group's stake in Stobart Air and Propius, and there can be no certainty that any transaction will be forthcoming or whether acceptable terms will be agreed," the group says in today's statement.
The Irish Independent report suggests a deal would likely lead to a tie-up between Stobart Air and Irish regional carrier CityJet. It notes Falko was a backer to CityJet, which was acquired by a consortium led by airline founder Pat Byrne in 2016, and that Falko executive James Greenstreet was appointed as a director of CityJet when the carrier recently exited formal restructuring.
CityJet had entered Examinership – a process in Irish law under which companies can protect themselves from creditors while they restructure – on 17 April as the coronavirus crisis hit. It completed its restructuring, as a slimmed down operation, last month.
Wet-lease operator CityJet, which ceased scheduled flights in its own right in the winter of 2018, had previously been in dicussions to acquire Stobart Air in 2016 before talks broke down.
Stobart Air, which largely operates a fleet of ATR turboprops, carries out ACMI operations, most notably including franchise flights for Aer Lingus. At the time Stobart Group bought back the unit earlier this year, it said it was working with Aer Lingus to identify a new financial partner to support the business for the future.