Stobart Group has signalled that job cuts could be imminent at Stansted and Southend, as a result of EasyJet's decision to close its bases at the two London airports.
EasyJet confirmed on 17 August that it would cease its base operations at Stansted, Southend and Newcastle at the end of this month. While the carrier will still operate some flights from Stansted and Newcastle, all of 21 of its routes from Southend – where it has four aircraft based – will be axed from 1 September.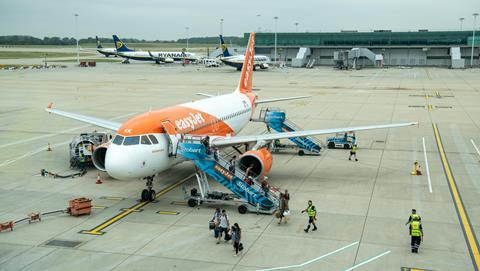 Stobart Group owns and operates Southend airport and its Stobart Aviation Services division performs check-in and baggage-handling activities at both Stansted and Southend.
"As a result of the decision to close these airport bases, Stobart Aviation Services will enter a consultation process with the teams affected by this as part of a wider cost-management programme within the aviation division," states Stobart Group.
"London Southend airport has also commenced a consultation process with its team in view of the challenges presented by Covid-19 and the resulting impact of blanket quarantine measures implemented by the UK government, which now includes key markets such as France, Spain, Malta, the Netherlands and Portugal."
Despite EasyJet's departure from Southend, Stobart Group says it remains confident in the medium-term future of what it describes as its "key strategic London airport asset".
The group's chief executive, Warwick Brady, says he expects EasyJet's decision will "create significant opportunity for other airlines looking to take on established, popular and profitable routes".
Stobart Group had been negotiating the sale of a minority stake in Southend airport but discussions were suspended in March as a result of the coronavirus crisis.
Ryanair, Wizz Air and Wideroe also serve Southend, Cirium schedules data shows.