Despite remaining in the red, EasyJet is pointing to a record earnings performance in the quarter ended 30 September, which helped to wipe £1 billion ($1.2 billion) off its full-year losses.
The UK carrier posted a headline pre-tax loss of £178 million for its financial year ended 30 September 2022. That compares with a loss of £1.14 billion for the previous year.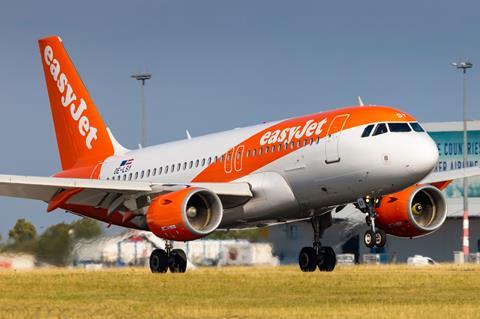 That was based on revenues trebling to £5.77 billion as passenger numbers rose more than three-fold, growing from 20.4 million to 69.7 million for the year. This outpaced EasyJet's ramp-up in capacity, helping lift load factor for the year from 72.5% to 85.5%
Notably the airline highlights a strong fourth quarter during the peak summer period, posting a record headline EBITDAR of £674 million.
Chief executive Johan Lundgren says: "EasyJet has achieved a record bounce-back this summer with a performance which underlines that our transformation is delivering."
EasyJet says that over the winter season, which it is typically a loss-making period for the carrier, it is investing in "building additional resilience" as it aims to to start its preparations for next summer earlier in response to the tight labour market. The airline aims to return to pre-pandemic capacity levels in the fourth quarter of its 2022-2023 financial year – the peak July-September quarter.
EasyJet, which took an additional financial hit of £78 million from disruption impact during this year, flags cost pressures including fuel, a strengthened US dollar and wage inflation. However it notes that winter holiday periods such as October half-term and Christmas week are "back to normal".
"Through these key periods, ticket yields are showing strength on the prior year, with the Christmas period's ticket yield currently up [about] 18%," it says, adding that while second half visibility is low, Easter yields are strong and booked load factors for the holiday period ahead of the prior year.
"Over the next year, we are targeting customer growth and are well placed to drive returns and margins while maintaining a rigorous focus on cost," says Lundgren. "With one of the strongest balance sheets in European aviation, we are ready to take opportunities as they present themselves."