South African Airways' low-cost unit Mango Airlines suspended flights today due to outstanding payments to the country's airports' operator ACSA, though the latter has since lifted its temporary block on the struggling state-owned carrier.
Reports emerged a week ago that Mango could be forced to temporarily suspend flights from the start of May and enter a formal business rescue process because of delays in the carrier receiving fresh funds from the South African state. The reports cited an internal company memo.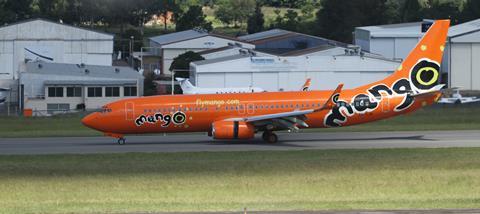 In a statement today, Mango confirms its flights have been temporarily suspended for 28 April, but only because of outstanding payments to ACSA. It notes its senior management and shareholder – South Africa's Public Enterprises Ministry – have since held emergency discussions to resolve the impasse.
ACSA now says it has lifted its suspension of Mango services after receiving part-payment of the carrier's debt over landing and parking fees, and passenger service charges.
"This follows negotiations that were entered into earlier between the two entities," ACSA says in a statement.
"The airline has made further undertakings to settle the remaining debt," it continues. "It is under these circumstances that Airports Company South Africa has agreed to lift the suspension on Mango Airlines. The approach of Airports Company South Africa to our business relationship with Mango Airlines is consistent with our approach to other airlines based on the terms and conditions entered into contractually."
While an agreement has been brokered with the airports operator, the earlier reports cited an end-of-April deadline set by Mango's creditors to settle payments. The airline has been waiting on receiving a portion of the R10.5 billion ($640 million) state funding given to rescue its parent South African Airways in October, but this reportedly will not be available until June.
Mango's earlier statement stressed the suspension of operations only covers flights today. "We ask for calm and patience as we navigate through these challenges. We will update the public as soon as possible," the airline says.