Sun Country Airlines posted a $51.8 million profit in the second quarter of 2021 as leisure travel demand in its scheduled service rebounded strongly following the more-than year-long coronavirus crisis in the air transport industry.
Net profit for the period rose from a $6 million loss in the second quarter of pandemic-plagued 2020, the Minneapolis, Minnesota-headquartered low-cost airline says on 28 July.
Revenue for the period came in at $149.2 million, up from $35.4 million during the same period in 2020. That's $22 million, or 17%, higher than first-quarter revenue, and 12% below the second quarter of 2021.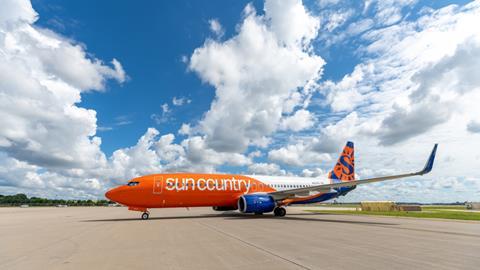 "We had a very strong second quarter driven by revenue outperformance in our scheduled passenger service business amid strong continued recovery in leisure travel demand," says chief executive Jude Bricker. "Passenger revenue growth was driven by higher fares, strong ancillary sales and continued recovery in capacity."
"When combined with our resilient cargo business and steadily improving charter operation, we generated a second quarter profit after removing the benefit of the Cares Act grants, further demonstrating the strength of our unique, variable capacity business model," Bricker adds.
The company saw capacity (calculated in available seat miles) grow 5% against the first quarter of 2021. However, that's still down 17% compared to the second quarter of 2019.
In the third quarter Sun Country says it expects to achieve revenues of $170-175 million.
Sun Country currently operates 34 Boeing 737 NG passenger aircraft, three more than at the end of the first quarter of 2021. In addition, the airline's cargo operation has 12 aircraft and is looking to grow further.
"The company is actively pursuing used aircraft transactions and expects to have at least 36 passenger aircraft in our fleet by the end of the year," Sun Country says.
The carrier went public earlier this year, and its shares began trading on the Nasdaq exchange on 17 March under the ticker SNCY.
Sun Country will hold an analyst call to deliver more details on its second quarter results on 29 July.