Sun Country Airlines has reported a first-quarter profit as customer demand for its scheduled-service segment grew quickly following an Omicron-driven dip early in the year.
"We are very happy to report another profitable quarter," says chief executive Jude Bricker. He credits "very strong bookings and unit revenue trends combined with solid cost control".
"These results came despite much higher-than-expected fuel prices and Omicron-driven headwinds earlier in the quarter," he adds. "Since President's Day we've seen some of the strongest demand in our history."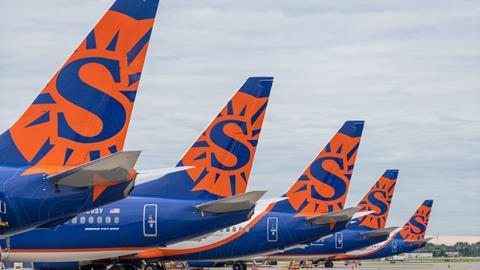 Total revenue during the first quarter rose to $227 million from $128 million in the same period a year ago. Profit came in at $3.6 million, from $12.4 million during 2021's first quarter.
The company flew 30% more block hours during the three months that ended on 31 March than in pre-coronavirus 2019, which it attributes largely to the addition of the cargo segment in 2020. Capacity as measured in available seat miles (ASMs) grew 6%, with scheduled service ASMs up 10% over 2019 levels.
"The difference between the levels of capacity demonstrates the variable nature of the business model," Sun Country says. "The first quarter is traditionally dominated by heavy leisure demand for vacations, which drove growth in scheduled service capacity."
Bricker says 66% of first-quarter block hours were in the airline's scheduled service segment, 11% in the charter business and 22% in cargo.
"Scheduled service is our best thing right now", but in the second quarter there will be a "modest shift" away from scheduled to charter service, he adds.
Long-term charter contracts like those recently signed with Caesars Entertainment and Major League Soccer made up 70% of charter flying during the first quarter, with short-term ad-hoc charter flying taking a back seat. Due to staffing constraints early in the year, total charter block hours fell 14%.
"As labour resources start to normalise later in the year, ad-hoc charter flying is the quickest flying to add back," Sun Country adds.
At the end of the first quarter, the all-Boeing 737 carrier had 38 aircraft in its passenger fleet. In addition to two aircraft that entered service in the first quarter, Sun Country purchased four aircraft in April and signed a letter of intent to acquire a seventh, for delivery in 2022.
Sun Country began flying freight for Amazon Prime with 12 branded aircraft in May 2020. That cargo segment will remain stable for the moment, Bricker says. "We are not in a big rush to grow our cargo business."
For the second quarter, the company is targeting total revenue of $210-220 million. That would represent a 24-30% increase over revenue in the second quarter of 2019.