US aviation company Surf Air Mobility has unveiled plans to both become a publicly traded company and to acquire regional US carrier Southern Airways.
The moves will help make Surf "a leader in the electrification of commercial aviation, providing it with resources necessary to bring electrified powertrain technology market", the company says on 18 May.
Surf, with offices in California, is a membership-based air travel company that operates a booking platform through which members can book flights on Pilatus PC-12 single-turboprops operated by partner companies.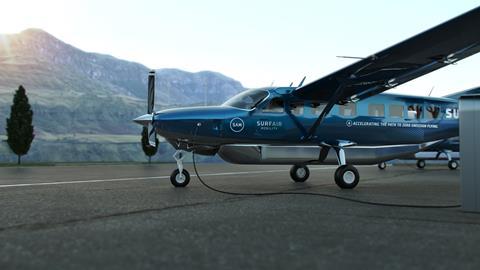 Southern Airways is a regional airline company that flies about 30 Cessna Caravans on routes from 39 US cities. Its operating divisions include Southern Airways Express, which flies in the mainland USA, and Mokulele Airlines, which flies in Hawaii.
Surf intends to acquire Southern at the same time it becomes a publicly traded company, which it will accomplish by merging with shell company Tuscan Holdings, which is already public.
Surf declines to specify the price it will pay for Southern, and Southern could not immediately be reached for comment.
The deal values Surf at $1.4 billion and depends on Surf's acquisition of Southern, Surf says. It expects the merger will raise $467 million in cash proceeds and close in the second half of 2022.
Tuscan is a "Special Purpose Acquisition Company" – a type of entity established for the purpose of bringing a promising partner public.
Though wildly popular on Wall Street in recent years, SPACs have since fallen from favour with investors, according to various reports. The Wall Street Journal on 18 May described the trend as an "investor stampede" away from SPACs. It said SPACs are likely to seek increasingly "low-quality" merger partners to minimise investment losses.
Also on 18 May, Surf said it signed agreements with certification specialist AeroTec and electric propulsion company Magnix to develop electric propulsion systems for Cessna Grand Caravans. Surf says it intends to equip its Caravans first with hybrid-electric and then with fully-electric propulsion systems.
Additionally, Surf says on 18 May it signed a deal under which private aviation support company Signature Aviation will "support the eventual roll-out of electrified aircraft charging infrastructure".
In 2021, Surf placed firm orders for 100 Cessna Grand Caravan EX, with deliveries from 2024, Cessna parent Textron Aviation said at the time.
In April, news broke that Southern Airways ordered two of Italian airframer Tecnam's new nine-seat twin-piston P2012 Travellers.
Several weeks ago, FlightGlobal reported that Surf had abandoned a planned $100 million takeover of hybrid-electric aircraft developer Ampaire.
Story updated on 18 May to correctly describe Surf's business. The company sells flights operated by partner companies but does not itself operate aircraft, the company tells Flightglobal.