The former president of WestJet's ultra-low-cost subsidiary Swoop, Bob Cummings, is returning to the airline to reprise his previous role.
"I am delighted to welcome Bob back to the WestJet group to lead Swoop through this pivotal time for affordable air travel in Canada," WestJet chief executive Alexis von Hoensbroech says on 13 April. "Bob's passion and knowledge of the ULCC market, his strength in leading high-performing teams and his impressive track record with the WestJet Group, will ensure that Swoop continues to lead the way in providing Canadians with access to ultra-low fare travel."
Cummings will begin work on 18 April.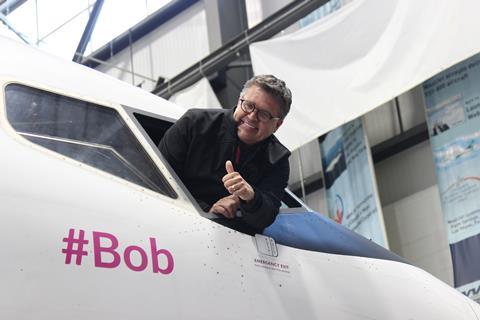 Cummings returns to the Calgary-based airline after spending two years as CEO of Central Mountain Air, a regional carrier that serves 12 destinations in western Canada with a fleet of 21 Beech 1900D, De Havilland Canada Dash-8 and Dornier 328 aircraft.
Prior, he spent 13 years at WestJet in several positions, including chief commercial officer, and president of Swoop in 2018. While there, he was responsible for the start-up and launch of the ultra-low-cost airline.
In February, Swoop said it would be adding Boeing 737 Max 8s to its fleet this summer ahead of the peak holiday travel season, as the discount segment in Canada heats up with two new competitors in the process of launching. Lynx Air flew its first routes last week, while Canada Jetlines is targeting first flight during summer.
The new 737s will allow Swoop to expand its domestic network to 37 non-stop routes from 23.