Norwegian is in "constructive dialogue" with bondholders over whether a majority in favour of its debt-to-equity conversion plan can be reached, after it was rejected in an initial vote on the proposal.
The Scandinavian budget carrier has warned that it will run out of cash by the middle of this month if it does not secure the remainder of its NKr3 billion ($290 million) state aid package. In order to access the funds that are vital to its survival, the airline must satisfy a number of conditions which include cutting its debt-to-equity ratio.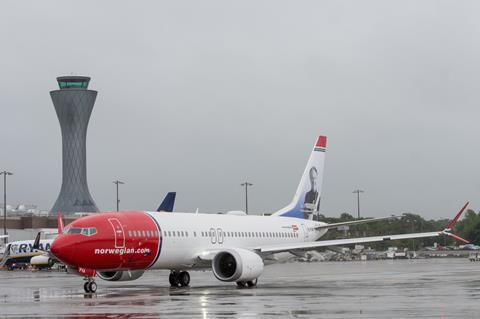 After a bondholder vote closed on 30 April, Norwegian has now issued a stock market update noting "very robust support" from three out of four bondholder groups, approving the company´s proposals. But the proposal failed to secure the necessary 62% majority.
"Our dialogue with the bondholders continues with the clear goal of reaching a solution," says Norwegian chief executive Jacob Schram. "Unfortunately, we were not able to reach an agreement within the deadline. However, the discussion is continuing through the weekend to find a solution."
Norwegian says its scheduled extraordinary general meeting will be conducted as planned on 4 May, at which it will determine the timeframe for the capital raise. It intends to call a new bondholder meeting for 18 May.
The airline adds it has also received strong support from lessors for a minimum conversion to equity of $550 million (excluding conversion under the so-called power-by-the-hour arrangement), which would satisfy the condition set out in the proposal to the bondholders.
Norwegian's debt-to-equity conversion plan would eventually mean 53.1% of the carrier is owned by leasing companies and 41.7% by bondholders. Existing shareholders would hold just 5.2% of the airline's stock if bondholders accept the plan.