Thai AirAsia has launched a crowdfunding bond campaign as part of efforts to beef up its war chest against the pandemic's impact.
The carrier says the crowdfunding effort — approved by Thailand's Securities and Exchange Commission — will allow retail investors and the general public to invest in the airline and "support its journey to recovery".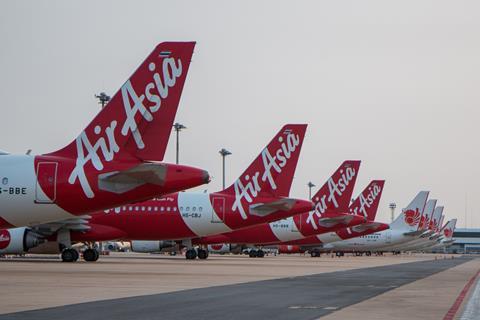 The debenture is available for subscription on Thai investment platform Peer Power.
The campaign, known as "Project Lift", will see Bt80 million ($2.44 million) in bonds issued, with a bond term of six months. According to the fundraising page, the minimum investment amount stands at Bt50,000, which will "enable retail investors to actively participate in the drive".
Thai AirAsia states that proceeds from the crowdfunding campaign will help it "shore up its short-term stability".
"It will be concurrently maintaining its existing funding plan, which consists of a capital raising and a business restructuring of [parent company] Asia Aviation," the carrier adds.
Asia Aviation widened its operating loss for the quarter ended 30 June, with revenue decline outpacing cost reduction efforts. The company posted a Bt2.8 billion ($84 million) operating loss, compared to the Bt1.8 billion loss it reported in the same period in 2020.
Thai AirAsia recently restarted domestic operations, after suspending them amid Thailand's worst wave of coronavirus infections.