Thai Airways International has promoted Chai Eamsiri, its current chief financial officer, to helm the airline as it undergoes business rehabilitation.
The appointment, effective 1 February 2023, marks the end of a series of acting airline chiefs since 2020. Eamsiri will replace current acting CEO Suvadhana Sibunruang, who was appointed to the role in June 2021.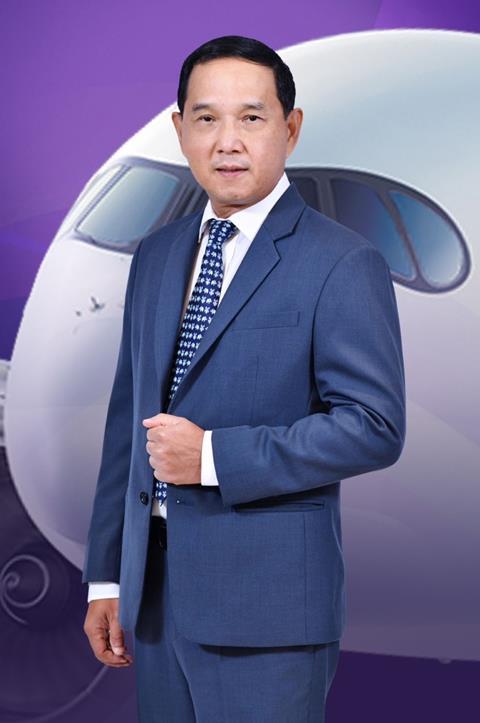 Thai says Eamsiri, who has 37 years of experience in the aviation sector, was selected from 53 internal and external candidates both from within the airline sector and outside of it.
"Mr Chai Eamsiri has acquired suitable attributes and qualifications for the position in every dimension. He has also obtained extensive financial and accounting literacy which is highly significant in achieving the rehabilitation plan amendments including earning new loans, restructuring capitals, and managing financial discipline to boost profit and accomplish the plan," the airline states.
It adds that Eamsiri "played a vital role" in crafting and implementing the business rehabilitation plan.
"The appointment is a crucial next step to build trust and confidence among the creditors, passengers and business partners," says Thai.
Eamsiri's appointment comes as the airline undertakes business restructuring, with a 2024 completion target. The Star Alliance carrier filed for restructuring in 2020, badly hit by a collapse in travel demand from the coronavirus pandemic.
The airline posted an operating loss excluding one-off items of Bt9.5 billion ($266 million) for the nine months to 30 September, narrowing the Bt21.2 billion loss in the year-ago period. Thai has also recovered about 60% of its pre-pandemic capacity system-wide.