Two major Thai airlines, Thai Airways International and Nok Air, are at different stages of putting together business reorganisation plans outlining how they will restructure their businesses under court protection and emerge stronger from the Covid-19 pandemic.
But a recent surge in virus cases in the Kingdom looks likely to scupper the country's plans to reopen to tourists this year – something airlines had been banking on to lead them out of the downturn.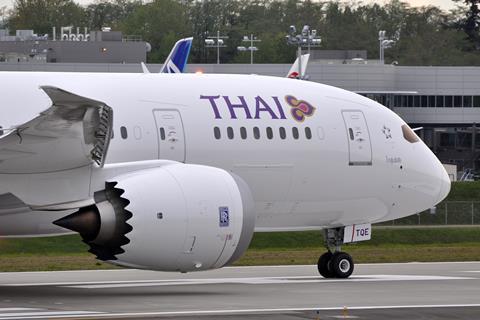 Moreover, a huge viral surge in India has put paid to hopes of being able to accept visitors from that key tourism market, while China's conservative approach to reopening borders could largely seal off a second major tourism market for many months to come.
"I think [that before the third wave] there was certainly an optimistic expectation about traffic and the opening of Thailand, even if only on a limited basis by the third quarter," Alan Polivnick, a partner at Watson Farley & Williams in Bangkok, tells Cirium.
Thailand reported 1,630 confirmed cases of Covid-19 on 10 May. In February and March, cases were comparatively low, usually staying well below 200 per day and often below 100.
On 12 May, Thai Airways' creditors, including lessors, will attend a virtual meeting to vote on whether to accept the airline's business reorganisation plan. Separately, three days later, or sooner, Nok Air is submitting its rehabilitation plan to the country's Central Bankruptcy Court.
Nok Air filed for business rehabilitation in July, about two months after Thai Airways.
The flag carrier's business plan is circulating among creditors and other interested parties, but Nok is still in the process of writing its plan and may have to revise it in light of Thailand's recent surge in Covid-19 cases.
"I guess part of the issue here is: what is Nok's plan? And whatever they planned to do three months, six months ago is not going to happen now because of this third wave," Polivnick says.
THAI'S CREDITORS MEETING
Ahead of Thai's 12 May meeting, creditors will have been reading and analysing the company's business reorganisation plan, which was published on 2 March in Thai and later translated into English. A copy of the 166-page English version of the plan, seen by Cirium, outlines the rationale for the reorganisation and the business plan itself, although some who read it tell Cirium they think it lacks sufficient detail.
A lessor with exposure to Thai says the plan could be more clear, but acknowledges the difficulty of forward planning routes amid the uncertainty of the pandemic.
"On the other side, it's also difficult for an airline to determine what routes they can fly at the moment. It's a no-win situation. We don't know in which region the recovery can be faster," says the lessor.
Regardless of the route plan Thai eventually puts forth, the lessor will be scrutinising whether Thai's business strategy is feasible.
"I think the main question is: 'Can they really get support from the shareholders or government that can make sure they can pay rent and they can meet their obligations, that they can fulfill their obligation after the restructuring?'" the person says. "That will be the key point to us."
WFW's Polivnick thinks creditors need more information about how they are going to be able to recoup their outstanding debts from the carrier.
"I do have some sympathy for them [Thai Airways], but at the same time we act for creditors who are being asked to agree a plan that will enable them to get repaid, so you'd think there would be a bit more detail in there," he says
"My initial question in all of this was: 'How much is really going to change and how much of this is simply being done to keep the airline going?' The rehabilitation plan doesn't answer that question."
Polivnick adds that he would have liked to have seen more details about the airline's MRO operations, as well as the focus of its long-haul passenger network.
GEARING UP TO VOTE
Observers will have to wait until 12 May to see how creditors vote in regard to Thai's business plan, but Polivnick expects the airline to have secured the support of a sufficient number of creditors to get it approved.
"The court has already set a date for a hearing on the plan [28 May], which normally doesn't happen until after the creditors' meeting," he notes.
"Whether that's people just pushing the whole thing along or whether the outcome has already been decided remains to be seen, but certainly that's an interesting development and that does suggest that Thai has reached some agreement."
Lessors make up a key component of Thai's creditor base, but a dispute over the treatment of lease-rental arrears appears yet to have been resolved.
John Frangos, a Bangkok-based partner and deputy director at Tilleke & Gibbins' dispute resolution practice, told Cirium in March that Thai Airways was challenging lessors' claims for future rentals agreed under long-term lease agreements.
The airline has divided the debts of lessors into debts incurred before the rehabilitation date, debts incurred between the rehabilitation application and the business reorganisation plan, and debts incurred afterwards, according to Polivnick, and the latter two categories are "much in dispute and are the larger amounts".
He says this issue is still being debated and has implications for the 12 May vote, given that the proportion of voting rights is determined by the amount of debt a creditor is owed.
A hypothetical example involves a lessor that agreed a 10-year lease on an aircraft at $200,000 a month on 1 May 2019. In the Thai restructuring, the lessor would be arguing that on 1 May 2019, the airline agreed on that date to be liable for $200,000 every month for the full 10 years. Thai, however, begs to differ.
"[Thai] have come back and said: 'No, the obligation doesn't arise until the payment date and the debts cannot be claimed in the proof of debt in the rehabilitation proceedings,'" Polivnick says.
If Thai's argument prevails, then lessors could potentially have their voting rights significantly diluted.
"If the lessors are held to that, their voting rights are much less and their ability to block the plan is much more limited," Polivnick says.
Not only Thai Airways but Nok is also levelling this argument to counter lessor claims, according to Polivnick. The age of Thailand's bankruptcy legislation may further complicate the resolution of this issue in the case of both airlines.
"The Bankruptcy Act is from 1940. [Back then] there was no concept of a lease, or lessor payments, or anything like that. And the law doesn't clearly deal with this, so I suspect that somewhere this is going to have to be dealt with by the [Central] Bankruptcy Court or in another court of appeal," Polivnick says.
Cirium has contacted Thai Airways for comment.
NOK'S SITUATION
Meanwhile, Nok needs to submit its business reorganisation plan to the Central Bankruptcy Court on or before 15 May. Just as Thai Airways did, Nok availed of the two one-month extensions to its submission deadline that are allowed under Thai law.
The Central Bankruptcy Court accepted Nok's application for business rehabilitation on 30 July 2020. It then approved Nok for the process on 4 November, appointing the airline's chief executive Wutthiphum Jurangkool – plus four other individuals, and Grant Thornton Special Advisory Services – to prepare the restructuring plan. They were given a three-month deadline from 15 December to submit the plan.
To what extent Nok will edit its plan to account for Thailand's third wave of Covid-19 remains to be seen.
As with Thai Airways, negotiations with lessors over the future leased fleet is a key part of the airline's restructuring.
Nok has only two aircraft types in its fleet, Boeing 737-800s and De Havilland Canada Dash 8s, but its lessor base is quite diverse and includes leasing giants such as Avolon, BBAM, BOC Aviation, DAE Capital and GECAS in addition to smaller players like Merx Aviation and Investec Bank.
"The challenge for Nok is and has always been that some of the lessors are very big lessors where Nok is a relatively small client and their exposure to Nok is relatively small," WFW's Polivnick says.
"If you have got one 737 out of a fleet of 100 with Nok, it's really not a big deal, but if you've got two to three out of a fleet of 20, it's a much bigger impact on your position."
The other challenge, Polivnick adds, is that aircraft of different sizes and vintages are involved. The aircraft in Nok's fleet range in age from four to 15 years old, Cirium fleets data show.
This makes it difficult to set a single lease rate for, for example, all of the 737s, Polivnick explains.
"The question is what the lessors see as the end game here. Some lessors obviously think long-term Nok is a good bet and tourism to Thailand will come back in a few years," he says.
"Others think: 'Well, there are better places to put these planes, and if in a few years we think Nok is a good credit risk and has a good business case we will come back.'"
Cirium has contacted Nok Air for comment.
MARKET COMPETITION
Thai and Nok's business plans will both have to take into consideration competition with other carriers in the Thai market.
"It's not just these two companies that are going to be the game in town," says Polivnick.
"Whilst these two are in rehab, and they are under the protection of the court, the other airlines have continued to operate and have remained largely solvent entities. I can quite well see Thai AirAsia looking to build capacity and build market share once domestic travel resumes."
Thai AirAsia has a restructuring plan pending shareholder approval that would involve listing the company on the Stock Exchange of Thailand to enable it to receive a Bt3.15 billion ($100 million) loan from an unnamed new investor.
On 7 May, the airline postponed a 4 June meeting of shareholders intended to approve the plan to an unspecified date, saying it needed more time to revise the restructuring plan following input and feedback from regulators.
Depending on when the shareholders meeting is rescheduled, this may buy Thai Airways and Nok some time to get their affairs in order before Thai AirAsia recapitalises.
Meanwhile, Thai VietJet is eyeing fleet expansion, with its Vietnamese parent VietJet having posted a modest post-tax profit of D70 billion ($3 million) in 2020, despite the pandemic.
Says Polivnick: "I always say to people when we are advising them that it's not just about Thai and Nok."
Analysis by Michael Allen of Cirium