UK carrier Titan Airways highlights the diversification of its activities, including the introduction of Airbus A321 converted freighter operations, as driving a sharp cut in losses for the year ending March 2022 and bright prognosis for the coming year.
Titan reduced its pre-tax losses from £16.3 million ($19.7 million) in its 2021 financial year to £3.6 million last year, despite the continued impact on travel demand of the pandemic. It cut net loss to £2.6 million for the year to March 2022, a sharp improvement on the £13 million loss incurred the previous year.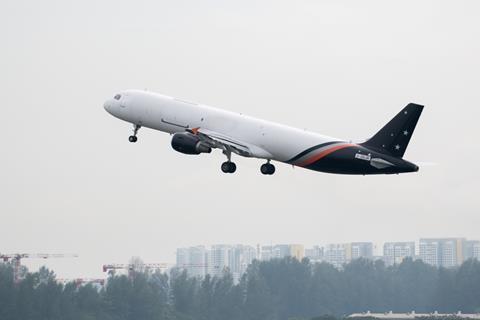 The improved performance was driven by a more than doubling in revenues to £121 million, surpassing its pre-Covid high of £117 million.
"Given the ongoing challenges presented to the industry by the Covid-19 pandemic, the directors are extremely pleased with the performance of the company," Titan says in its results commentary.
"Thanks to the diversified business mix and the company's agile nature, securing new niche contracts, the company results reflect a strong second half to the year."
Notably that includes the expansions of its cargo activities, including securing contracts for its A321 converted freighters. Titan took delivery of the first of these at the start of 2021 and now operates three – with conversions slots for a further two units this year.
It also took delivery of an A330 freighter in August, while returning an A318 and Boeing 737 freighter at the end of their leases during its last financial year.
The company says the new fleet additions are all deployed on long-term contracts that provide "stable revenue streams" and help reduce the seasonality challenges that are "endemic with the industry".
Titan also highlights a strengthened balance sheet following the refinancing of two group loans and this combined, with the diversified model, customer mix and strong pick-up in travel demand, gives it optimism that it will post new highs in both revenue and profit in the coming year.
"The directors…expect a strong performance in [financial year] 2023, with potential record results, following an exceptionally strong first quarter to the year and a record amount of business on the books," Titan says.