Trans States Airlines, which announced last month that it would be shuttering at the end of the year due to consolidation and a pilot shortage, has told its employees that it will go out of business nine months earlier, on 1 April. It could be the first US airline to fall victim to the coronavirus that has decimated the industry.
"It's difficult to articulate or even comprehend the speed at which the coronavirus has changed our industry and our world," president of Trans States Holdings Rick Leach writes in a memo to employees on 17 March. "We received word late last night that the immediate cuts to our schedule are far deeper than we feared."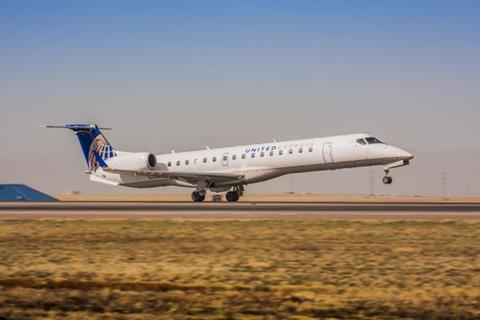 "We knew that the wind-down would be accelerated, but were confident that we could continue to fly for United for some months. Yet now, less than one month after our original announcement, we now have less than two weeks of flying remaining. It hardly seems possible," he adds.
Trans States did not respond to requests for comment on the internal memo.
In late February, Trans States Airlines, which operates 46 Embraer ERJ-145 jets for United Airlines from Denver, Chicago and St. Louis, said it would be winding down operations at the end of 2020. According to Cirium fleets data, the airline provides feeder services to more than 80 cities in North America with about 240 daily flights.
The Trans States memo to employees in February said United expressed a desire to "simplify the Embraer 145 programme by consolidating flying". In addition, the company cited a pilot shortage as another reason it will cease operations.
On Monday, industry group Airlines for America (A4A) asked the government for $58 billion in aid to assist airlines as they manage through the coronavirus crisis that has led to sharp declines in demand and subsequent cuts in service. All major US airlines, including United, said last week that they expect significantly lower revenue for the rest of the year.