Transat AT chief executive Annick Guerard says WestJet's pending acquisition of leisure airline Sunwing will "significantly" harm competition in Canada's hotly contested leisure travel market.
"We have taken note of the proposed transaction announced last week," chief executive Annick Guerard says on the company's quarterly earnings call on 10 March.
"We expect a thorough analysis by the competition bureau and ministry of transport, given the important competition issue that this raises. We certainly do not see this as being good news for customers as it will significantly reduce competition in the market, especially in key markets such as western Canada where concentration would be very high," she adds.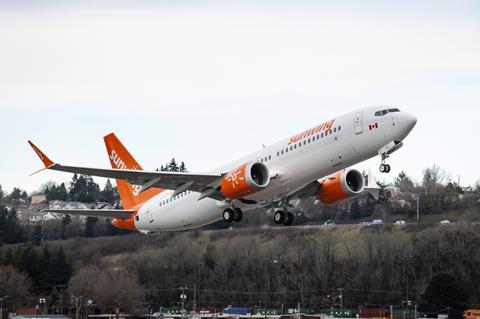 WestJet announced its plans to take over the low-cost vacation specialist along with its Sunwing Vacations tour operator business on 2 March, shaking up the country's budget holiday travel sector.
At the time, the Calgary-based airline, the country's second-largest carrier after Air Canada, said the deal "positions us to accelerate growth in value-oriented travel, already the fastest growing segment of the airline market".
Air Transat had concluded a code-share agreement with WestJet on transatlantic routes last year as part of its post-pandemic pivot to alliances and collaborations in an effort to extend its reach.
Meantime, two further discount airlines are poised to enter the Canadian market in the coming months - Lynx Air, which has scheduled its first revenue flights for early April, and Canada Jetlines, which has said it is targeting a launch in the beginning of the third quarter at the latest - while incumbents Flair Airlines and WestJet ultra-low-cost subsidiary Swoop are both beefing up their fleets.