Transat AT, parent of Canadian holiday specialist Air Transat, reports stronger fiscal-year second quarter results and is expecting summer travel to return to near-normal levels.
The Montreal-based company says on 9 June that revenue for the three months ending on 30 April came in at C$358 million ($283 million), compared to C$7.6 million in the same quarter one year ago.
During the second quarter of 2021, the company had suspended operations and effectively shut down completely due to Canada's strict coronavirus travel restrictions. It restarted operations at the end of last July, well into the traditional summer travel season. The country's travel rules only eased later in the year.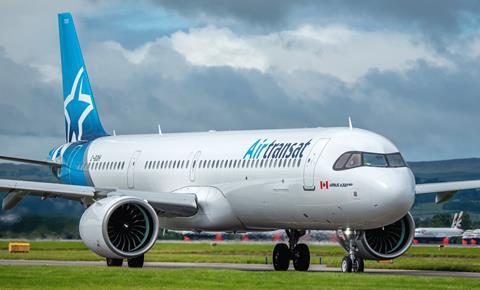 The leisure airline company lost C$98.3 million in its fiscal second quarter, compared to $69.6 million in the year-ago period, Transat says.
"When the effect of Omicron subsided at the end of February, operations and sales rebounded strongly, allowing us to end the quarter on a very encouraging note," chief executive Annick Guerard says. "We foresee a strong recovery and will continue to implement all the measures necessary to capitalise on it."
The airline's capacity during the quarter was slightly less than half of the comparable 2019 level, but improved progressively through the period. It's load factor also rose from 67% in February to slightly more than 80% in April, she adds.
The company expects an improving summer season as customers' desire to get away peaks, despite pressure from inflation and rising fuel prices.
"Sales are progressing in a very satisfactory manner for the summer," Guerard adds. Without the higher cost of fuel, the company would have posted a positive result for the month of April, she adds.
"We observe that consumers are ready to accept price hikes and we have implemented a fuel-hedging programme to protect us against significant increases during the summer," she says. "Clients are booking later than they were before the pandemic, but the pace is steadily increasing."
"If this trend holds, we expect to see good volumes in the months ahead."
This summer, Air Transat's capacity will be about 89% of 2019 capacity, with transatlantic capacity – the airline's major market during the mid-year travel season – at around 75% and sun destinations close to 98% of 2019 levels.
Transat also plans to add flights this summer between Canada and the USA.
It will "increase its presence in the trans-border market by quadrupling its capacity compared with 2019 by offering, among other things, new flights from Montreal to Los Angeles and San Francisco", Transat says. It expects its summer capacity on domestic Canadian routes will be 5% more than in 2019.
Air Transat is continuing to pursue its long-term strategic plan, which includes a fleet renewal. It expects to take delivery of two more Airbus A321LR aircraft by the end of the year, bringing to 12 the total for that type.