Transat AT, owner of Canadian leisure carrier Air Transat, has warned investors about its ability to remain in business "as a going concern" if a planned acquisition by Air Canada falls through.
"At October 31, 2020, there exists material uncertainty that may cast significant doubt on the corporation's ability to continue as a going concern," Transat says on 14 December.
The warning came as Transat reports losing C$238 million ($186 million) in fourth quarter of its 2020 fiscal year, which ended on 31 October.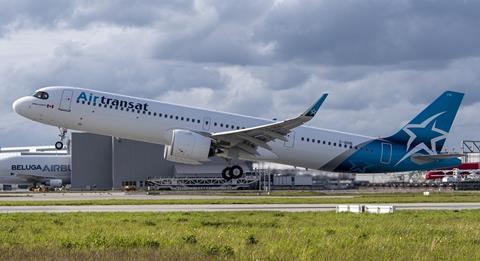 Montreal-based Transat lost C$497 million in the full fiscal year. The company's liabilities exceeded assets by C$163 million on 31 October, and it held cash and cash equivalents valued at C$426 million.
"Our results reflect Covid-19's devastating impact across the travel industry," Transat chief executive Jean-Marc Eustache says. "The upcoming completion of the transaction with Air Canada should give us the solidity to face the crisis and capitalise on the recovery."
Due to the pandemic's effect on travel demand, Transat suspended Air Transat's operation entirely from 1 April to 22 July.
The company recently secured up to C$250 million in new short-term financing, and lenders have agreed to suspend some finance-related requirements tied to Transat's debt.
However, if lenders do not extend those suspensions beyond a 30 January 2021 expiration, Transat "could be in default of its obligations", it warns.
Transat continues working to close its planned acquisition with Air Canada. Due to the Covid-19 pandemic, Air Canada in August secured a huge discount. The deal now calls for Air Canada to buy Transat for C$190 million, down 74% from about C$720 million.
Transat's shareholders will vote on 15 December on whether to approve the deal.
Regulators must also clear the purchase, and those in Canada and Europe have raised competition-related concerns.
Canadian authorities continue reviewing the planned deal, and the European Commission's decision is expected on 9 February 2021, Transat says.
"While the Corporation is making every effort and remains confident that the transaction with Air Canada will be completed, it cannot be certain of this outcome," Transat says in regulatory filings.
Should that deal crumble, Transat would need about C$500 million in additional financing in order to "continue as a going concern for the next 12 months", a filing says.
As of 31 October, Air Transat's fleet included 34 aircraft, among them 19 A330s, 13 A321s and two Boeing 737-800s, it says.