TUI Group has cut its peak summer airline capacity to 60% of 2019 levels amid a slower-than-expected recovery in its key UK market.
The European leisure giant had in May suggested that it expected to operate 75% of pre-crisis capacity from July onwards.
But while TUI has seen "very positive net bookings" in Belgium, Germany and the Netherlands, it was "losing customers" in the UK until last week, group chief executive Fritz Joussen said during an earnings briefing today.
Joussen blames uncertainty among UK consumers caused by the government's rapidly changing travel restrictions, and the country's policies on vaccinated travellers, which he notes are stricter than those seen in TUI's other outbound markets.
"More or less everybody treats the vaccinated without restrictions but the UK has PCR tests on return, sometimes even two, and that is of course additional effort and also additional cost [for consumers]," Joussen says.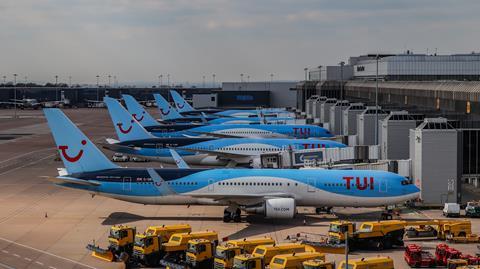 Therefore, despite TUI's seat capacity more than doubling between June and July, the UK was only at around 50% of Germany's level, when it would historically be 30% ahead.
"That actually led us to the decision to… do summer at 60% instead of 75% [of pre-crisis capacity]," says Joussen.
Group capacity in July was at 42% of pre-crisis levels, TUI states, as loads factors exceeded 80% in Belgium, Germany and the Netherlands, with the UK lagging at 71%.
Nevertheless, the "trajectory is quite good" for UK bookings now that they have turned net positive, Joussen notes.
And despite challenges in the UK, TUI Group ended cash burn in the April-June period, for the first time during the pandemic.
The recovery is being driven by vaccination programmes enabling the relaxation of travel restrictions, thereby giving customers the confidence to book holidays, the group says, citing demand from Germany as a highlight.
TUI Group reported a loss of €939.8 million ($1.1 billion) for its third quarter, across a business that also owns hotels and cruise ships. That compares with a loss of €1.51 billion in the same period of 2020, when the first wave of the pandemic shuttered much of the world's tourism industry.
Revenue of €649.7 million was a huge improvement from the €71.8 million it reported for the April-June period of 2020.
Its total bookings for the summer are just below 50% of pre-crisis levels, at 4.2 million, the group says.
TUI adds that it is seeing "good demand" for long-haul trips in the coming winter season and into its summer 2022 programme.