TUI Group expects its summer 2022 capacity to be close to "normalised 2019 summer levels" as demand returns in key markets, driving a return to full-year profitability.
"After two years of misery, we will be profitable this year again," said TUI Group chief executive Friedrich Joussen during a fiscal second-quarter earnings briefing on 11 May.
Summer 2022 bookings across the group – which includes units focused on hotels and resorts, cruises, and tours and activities, alongside tour operators and airlines – are at around 85% of 2019 levels, Joussen says, but on prices some 20% higher.
"Already the revenue is at pre-crisis levels," he states.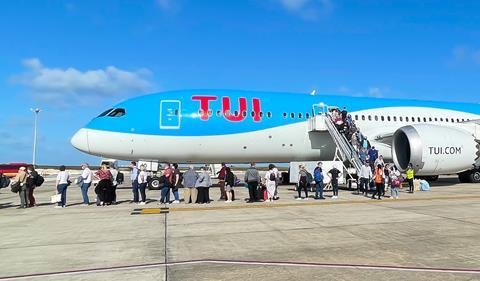 The demand recovery is being driven by the removal of travel restrictions relating to the Omicron variant of Covid-19 as the pandemic recedes, amid a limited impact from the war in Ukraine.
"Bookings across our key markets [in the] UK, Germany and Benelux have been largely unaffected by the war in Ukraine, with only the Nordics and Poland subdued," TUI states, giving the example of some long-haul routes from the Nordics being cut due to airspace restrictions.
It cites demand in the UK market – where some 50% of TUI's airline capacity is based – as particularly strong, noting bookings are 11% up on 2019 levels.
TUI says: "[Given] the latest positive booking trends, combined with clear pent-up demand as Omicron-related travel restrictions ease, increasing intention to holiday abroad for a beach holiday and a later booking profile, we are confident in our summer 2022 capacity assumption of close to normalised 2019 summer levels."
Joussen adds that the summer strength is particularly important for a business where "all the profitability is in the last quarter [July-September]".
Furthermore, TUI notes that it is less exposed to some of the cost increases being experienced by dedicated airlines, given its diversified business structure.
For the January-March quarter, TUI reported an EBIT loss of €271.4 million ($286 million) at a group level. Within that figure, the Markets & Airlines segment – which includes its tour operators and airlines – saw a loss €272.8 million, which was partially offset by profitable performances from TUI's Hotels & Resorts and Holiday Experiences units.
Group revenue of €2.1 billion was an improvement of €1.9 billion year on year, reflecting the parlous state of the travel industry in early 2021. In 2019, group revenue came it at €3.1 billion for the equivalent period.
TUI notes that March saw the highest monthly revenue within the second quarter, "as operations ramped up after a more subdued January and February post-Omicron restrictions".
Across the quarter, TUI says that it generated "a significantly positive operating cash flow, driven by substantial working capital inflow".
The group's liquidity stood at €3.8 billion on 6 May, it says, after it handed back €700 million of state support on 1 April.
"We will pay back more soon," Joussen states.
For TUI's full financial year – ending 30 September 2022 – the group expects to return a "significantly positive underlying EBIT".