TUI's move to join the Airlines for Europe (A4E) industry association at the end of 2019 came after the leisure giant decided to seek a louder lobbying voice on pressing issues such as sustainability and taxation.
The European group's chief executive for airlines, Kenton Jarvis, tells FlightGlobal that joining A4E gives TUI's five operators – TUI Airways, TUIfly Belgium, TUIfly Deutschland, TUIfly Netherlands, and TUIFly Nordic – a single lobbying voice on those key topics, and more.
The desire to create that single voice reflects a wider strategy to bring TUI's carriers closer together.
"I took the role about 18 months ago, and TUI's been on a bit of a journey with its airlines," Jarvis says. "We've been working progressively… to bring together the airlines in a way that makes synergistic sense."
Functions such as engineering, in-flight supply and procurement have been combined, and now the group is "starting to think about the issues that we all face together, and the best way to collectively get our voice heard".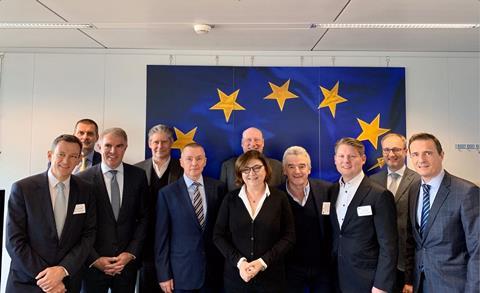 That is where A4E membership comes in.
"When we charged [our team] to look at the most effective lobbying body, A4E looked like the most obvious choice," Jarvis states. "When you look at the company you are in when you join A4E, I think that speaks for itself."
A4E was launched in January 2016 with a mandate to promote the interests of European airlines and their passengers. Members include Europe's five largest airline groups: Air France-KLM, EasyJet, IAG, Lufthansa Group and Ryanair.
TUI's membership also brings a unique perspective to A4E: that of a group whose focus goes beyond airlines and into the wider tourism realm, including hotels and cruise ships.
SUSTAINABILITY FOCUS
Importantly, it is adding to A4E's lobbying strength just as sustainability has become "the big issue", Jarvis suggests.
"As a topic for the industry, it's a good one: we have to be more carbon-efficient," he says. "We just had a meeting with the [new EU transport commissioner Adina-Iona Valean]. That's the biggest single part of her mandate – sustainability."
In order to best contribute to the European Commission's upcoming Green Deal strategy, A4E and other airlines have joined forces with Europe's airports, manufacturers and air navigation service providers in the development of a cross-sector climate initiative. Run as an independent study, this sustainable aviation roadmap for Europe will identify opportunities for even greater decarbonisation, whether through technology, operations, sustainable aviation fuels or price incentives.
As part of A4E, TUI can help shape that study, Jarvis says.
"If we don't take proactive steps, then you run the risk of people either voting with their feet, or new, inventive taxes coming in," he states. "So we need to do the right things for sustainability."
Jarvis believes that TUI is slightly ahead of the game, noting that the group's sustainability policies have been in place for some years, including a plan to base its fleet around the latest-generation, fuel-efficient jets in the Boeing 787 and 737 Max.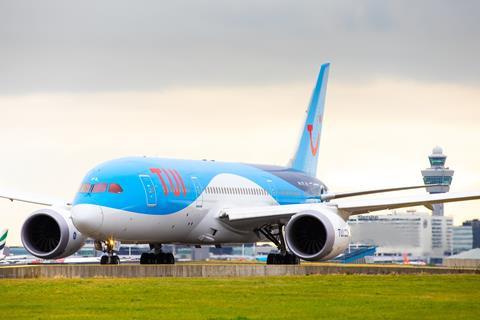 "We already operate one of the most carbon-efficient airlines in Europe," he says of TUI's fleet, which numbers around 150 aircraft. "Obviously all the long-haul aircraft have been broadly replaced now with Dreamliners. And the short-haul aircraft, when the Max flies, we'll be fully rolled through into Max aircraft."
TUI was among the largest operators of the 737 Max when the global grounding began in March, with 15 of the type in service, according to Cirium fleets data.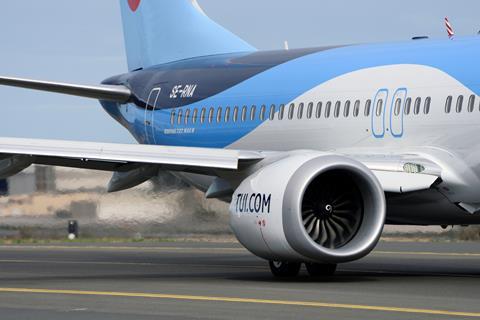 Beyond taking more efficient aircraft, and other initiatives such as aiming to operate with high load factors, and adopting fuel-efficient flying and taxiing policies, TUI has also been working to reduce the need for single-use plastics across its business.
"We've done a lot of work on single-use plastics – getting rid of them from our aircraft. We've got rid of 26 million pieces so far, with a target to get that up to 40 million."
That number is several times higher when the wider TUI business – particularly its hotel operation – is taken into account.
The next steps on sustainability, Jarvis suggests, include agreeing "what our carbon-offset policies should be. And we need to move on to the next step and agree what our approach to biofuels and more sustainable aviation fuel could be".
TAXING QUESTIONS
Taxes were also a key consideration when TUI chose to join A4E, specifically "making sure the voice is heard for tourism, and not just the aviation industry".
"We need to make sure that when we're talking taxes… that they encourage economic growth and they encourage investment, and they don't stifle that growth," says Jarvis. "And also that they're not prohibitive – they don't have any unintended consequences.
"The TUI Group is the world's largest tourism group, so we have over 380 hotels, 17 cruise ships. We have to think about when we make a policy, how that plays out across all arms."
The A4E Aviation Summit, in association with FlightGlobal, takes place on 3 March 2020 in Brussels: a4eaviationsummit.eu