Turkish Airlines almost doubled revenues and operating profits last year as a sharp return in passenger demand helped it to record profitability
The Star Alliance carrier had already weathered the crisis better than most of its peers, as a strong performance from its cargo business supplemented a passenger operation which benefited from both the scale and touristic nature of its domestic market.
It moved to quickly rebuild passenger capacity as borders reopened last year, flying 71.8 million passengers in 2022, just 3% shy of pre-pandemic levels.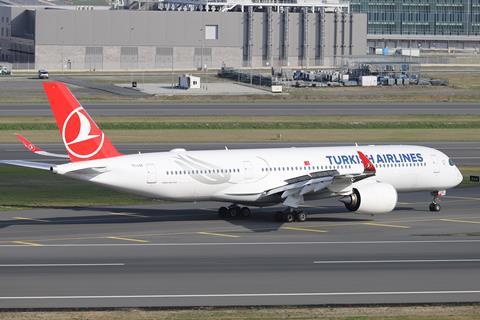 This helped it last year to more than double passenger revenues, to $14.3 billion from $6.4 billion in 2021.
Despite Turkish shifting back some of the passenger aircraft temporarily converted for freight operations during the crisis and falling global demand, cargo revenues only dropped to $3.7 billion from $4.0 billion in 2021.
This contributed to the Istanbul carrier's overall revenues climbing from $10.7 billion in 2021 to $18.4 billion last year – an increase of 39% on revenues generated in pre-pandemic 2019.
Turkish Airlines' operating profit jumped from $1.4 billion to just under $2.8 billion for 2022, while net profit almost trebled to $2.7 billion. Both figures outstrip the airline's previous profit highs.