The UK government wants the country to take a global lead in the development of the sustainable aviation fuels (SAF) that are crucial to overcoming the airline industry's environmental challenges.
Speaking during the Airlines 2021 event in London on 22 November, UK aviation minister Robert Courts said the government's vision was to "rebuild the [aviation] sector [post-Covid] with innovation and sustainability at its heart".
As part of that effort, Courts says the UK wishes to create a "world-leading SAF industry", supported by a recently announced government injection of £180 million ($242 million) in funding.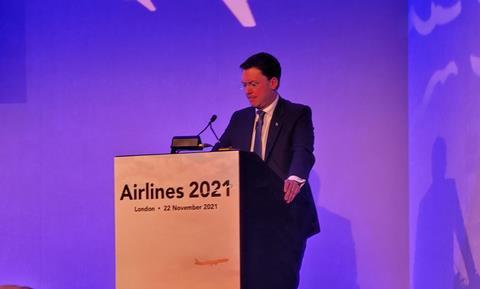 Courts also acknowledges that "aviation emissions are a global issue", with the UK believing that ICAO should play a "key role" in creating the framework and guidance for all countries to follow.
With that aim in mind, the UK is leading the newly created International Aviation Climate Ambition Coalition, which was established at COP26 and represents around 40% of global aviation emissions, Courts notes.
He highlights the coalition's founding declaration, which commits members to using ICAO to introduce aviation policies in line with keeping global warming to a maximum of 1.5°C.
Taking the lead on creating a sustainable aviation industry is a "massive opportunity for the UK", Courts concludes.
Most industry roadmaps suggest SAF be a crucial factor in the sector reaching net-zero CO2 by 2050.