Scottish regional carrier Loganair's turnover for the 12 months to 31 March more than halved to £81 million ($110 million) compared with the previous year, but the airline has credited its adaptability amid the Covid-19 pandemic with helping it reduce its full-year pre-tax loss.
The Glasgow-based operator reports that its pre-tax loss narrowed to £5.6 million from the £12.7 million loss recorded in fiscal 2019/20, and attributes this to its "flexibility to rapidly change its business model in the face of the pandemic".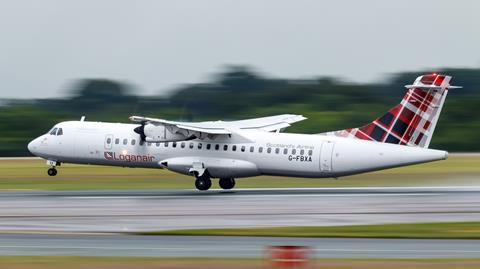 Loganair says it converted two aircraft to support the Scottish Ambulance Service last year and signed a new long-term contract with "a group of oil companies" to fly between Aberdeen and Sumburgh.
The carrier's scheduled services, however, were "severely restricted" amid the pandemic, and passenger numbers fell to around 252,000 from just over 1 million in 2019/20.
Loganair says it has returned all employees to full pay as of 1 September, after previously agreeing a series of pay reductions with unions. All 42 of the airline's aircraft are in service, it adds, and two more ATR turboprops joined the fleet in October.
Cirium fleets data shows that the carrier operates a mixture of ATR 72s and 42s, Embraer ERJ-135s and ERJ-145s, and Saab 340 turboprops.
"We're cautiously optimistic about the future," states Loganair chief executive Jonathan Hinkles, adding that he is confident the airline can address "challenges including reduced demand for business travel and concerns about aviation's impact on the environment".
Loganair's cash balance at 31 March 2021 was £19.5 million.