United Airlines' technology venture capital arm, United Airlines Ventures, has invested in a biofuel refinery in Oregon.
The Chicago-based carrier said on 15 November that Next Renewable Fuels, located in Port Westward, near the Pacific coast, will launch production in 2026 and could produce "up to 50,000 barrels" of sustainable aviation fuel (SAF), renewable diesel and other renewable fuels per day. The total investment will be up to $37.4 million, pending achievement of certain milestones, United says.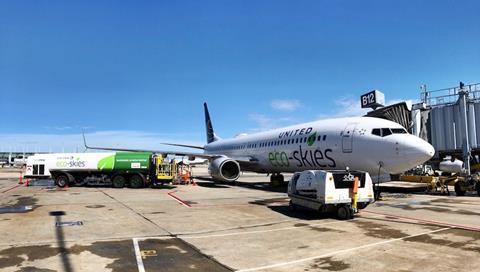 "One of the biggest barriers to increasing supply and lowering costs of sustainable fuel is that we don't have the infrastructure in place to transport it efficiently, but Next's strategic location and assets solve that problem and provide a blueprint for future facilities that need to be built," says United Airlines Ventures' president Michael Leskinen. "We believe this investment will not only bolster Next's ambitions and create near-term solutions to expand our SAF supply, but further demonstrates our commitment toward producing SAF at the scale necessary to decarbonise the aviation industry."
United adds that the refinery "has the potential to be used as a platform to scale SAF and deploy additional future technologies".
The biofuels investment is United Airlines Ventures' fifth SAF-related technology investment, the company says.
Numerous airlines, both in the USA and abroad, have announced investments in sustainable aviation fuels. Airline trade group IATA has committed that its industry will achieve net-zero CO2 emissions by 2050. Decarbonising air transport, particularly through the transition to SAF, can deliver up to 65% of aviation's carbon reduction by 2050, IATA has said. But the lack of supply continues to constrain carriers.
The USA, the world's largest air transport market by activity, recently released a detailed plan for a massive scale-up of domestic SAF production from 5 million gallons in 2021 to 3 billion in 2030 and 35 billion in 2050. Its "farm to flight" action areas include SAF feedstock, conversion technologies and supply chains, supported by tax credits and other incentives.
The European Union, UK, Singapore, Canada and Norway are among other countries to have announced diverse plans to decarbonise aviation, their focus ranging from SAF blending mandates to hydrogen and electric propulsion, and airspace management reform.