United Airlines has begun removing seats from Embraer 175 regional aircraft, a strong indication that broad pilot furloughs are imminent.
On 6 August, Chicago-based United began showing three different seat maps of the E175 on its website. The first seat map is the aircraft's normal 76-seat, three-class configuration. Two other diagrams show a maximum of 70 seats, in two different three-class configurations.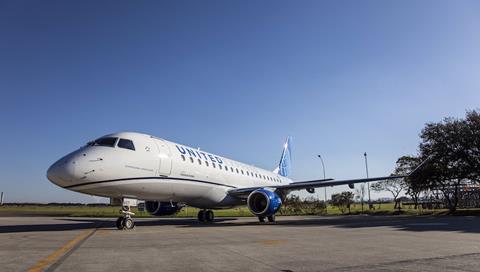 The changes come several weeks after United's chief commercial officer Andrew Nocella said that the airline was drawing up plans to remove seats from its jets, a requirement under the carrier's contract with its pilot union Air Line Pilots Association, International (ALPA).
That contract requires United to "convert" 76-seat aircraft to 70-seat aircraft if it is forced to furlough pilots hired prior to when the contract was signed, a move that could diminish the economics of the jets.
Regional carriers Mesa Airlines, Republic Airways and SkyWest Airlines operate a combined 172 of the type for United, according to Cirium fleets data.
"We have the engineering being worked on right now, and we will have them removed by October 1," Nocella had said on 20 May when asked if United might take this step.
United did not comment on the changes.
Last week the carrier told its pilots it plans to furlough at least 3.900 pilots or one third of its total pilot population as it prepares to deal with the pandemic's long-term effects on the industry.
Passenger demand fell to record lows during the second quarter as shelter-in-place orders and lockdowns around the country and across the globe depressed demand for passenger air transport. Even though there has been a small rebound recently, most industry players expect the recovery to take up to three years.
The airline, which has received federal government financal aid under the CARES Act, was prevented from laying off or furloughing personnel before 1 October. That deadline is fast approaching, and the commercial aviation industry is preparing for up to 75,000 layoffs across the country if the relief is not extended.
Pilot union representatives could not immediately be reached for comment on the changes and what they might mean for the airline and its pilots.
In June, the union agreed to voluntary furlough and company leave of absence programmes, as well as a voluntary separation leave initiative in order to help reduce the number of pilots who might be laid off in the coming months.