United Airlines has seen "deceleration" of third-quarter income due to increased fear among travellers about the "Delta" variant of Covid-19.
In a US Securities and Exchange Commission filing, the airline says on 9 September that it expects revenue for the third quarter of 2021, which ends on 30 September, will be down about 33% compared to the same quarter in 2019.
United expects its capacity will be "down at least 28% versus the third quarter of 2019, which compares to initial guidance of down 26%".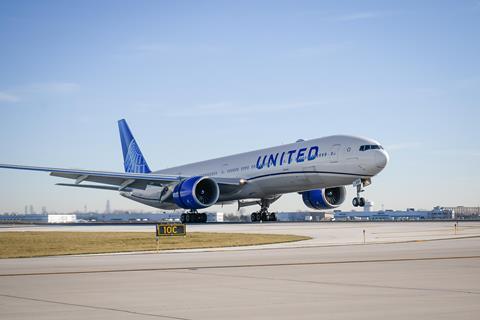 Speaking at an investor conference on 9 September, the Chicago-headquartered airline's chief commercial officer Andrew Nocella says United was surprised at the effect the virus' mutation had on bookings in the second half of July.
"Clearly, a lot has changed in a very short period of time," he says. "July performance came in on plan and we were really pleased by that. The August outlook at that point in time was set to exceed July, and we were on that pace. But unfortunately, right after the [second quarter] earnings call, the headlines of the Delta variant overtook the situation and quickly changed the outlooks."
"The crystal balls have been a little bit foggy as we have gone through this crisis," he adds.
That said, Nocella adds that the situation "seems to be stabilising".
"As quickly as things went south, things can move back," he adds.
United joins other US carriers – including JetBlue Airways, American Airlines, Delta Air Lines and Spirit Airlines – that have lowered third-quarter earnings expectations as the coronavirus continues to depress demand.
By summer 2022, United expects long-haul international travel to pick up significantly as customers become accustomed to vaccination requirements and as travel restrictions are relaxed.
"We think it will be much easier to fly, and people will be used to this new normal, by that time," Nocella says. "We feel bullish that there will be a lot more demand flying across the Atlantic next year."
Asia-Pacific, however will be slower to recover than the rest of the world due to ongoing restrictions that make movement in and out of the region difficult, he adds.