United Airlines will consolidate all of its regional Embraer 145 flying to one partner, in order to streamline its network and lower costs as the coronavirus outbreak continues to take its toll on the air transport industry.
Two commuter airlines, ExpressJet Airlines and CommutAir, both fly the type for the Chicago-based mainline carrier as United Express, and on 30 July United confirms it will reduce its operations to just one of the two, CommutAir, leaving the other's future in doubt.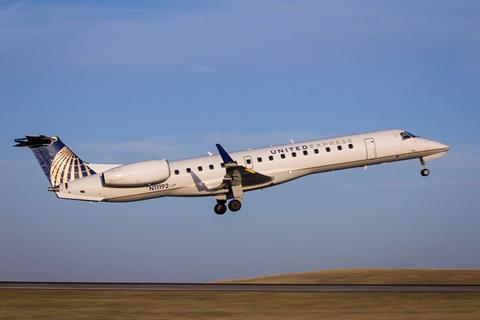 "We have been communicating for several months that we expect to be a smaller airline in response to the unprecedented impact the Covid-19 pandemic has had on our business," United says. "In February, we took our first step to simplify our partner landscape and consolidate our E145 flying."
"Beginning later this year we will consolidate all of our E145 operations into CommutAir, which will then become United's sole operator of this aircraft type. This transition will take a number of months," the airline adds.
Last February, United ended its relationship with Trans States Airlines, another United regional affiliate that operated the type, which shuttered completely shortly thereafter. At the time, it said it had made a "long-term" commitment to ExpressJet.
Also in February, Atlanta-based ExpressJet disclosed plans to add 36 50-seat ERJ-145s to its fleet, and that it would divest of all of its larger E175s, becoming the world's largest ERJ-145-only carrier, with more than 125 aircraft in its fleet.
Now, this move by the legacy airline could spell the end of the regional carrier, which operates exclusively on behalf of United Airlines as United Express.
ExpressJet would be the third US regional airline to fold since the beginning of the coronavirus crisis in the air transport industry, following Trans States and Compass Airlines.
Prior to the pandemic, ExpressJet served more than 100 destinations in the USA, Canada and Mexico, with more than 3,300 weekly flights from bases in Chicago, Houston and Newark. It had about 3,000 employees.
CommutAir, headquartered in Cleveland, Ohio, serves 50 destinations with about 1,000 weekly flights as United Express, operating 29 ERJ-145 aircraft. The airline says on 30 July it "looks forward to our continued partnership with United".
Multiple attempts to reach ExpressJet for comment were unsuccessful.