United Airlines has no plans to retire aircraft following the devastating coronavirus crisis, saying it stands ready to resume normal services and to offer more long-haul flights to overseas destinations once travel restrictions lift.
On its quarterly analyst call on 22 July, Chicago-based United's executives say that despite suffering the worst financial quarter in the company's almost-100-year history, they remain optimistic their path will bear the most fruit.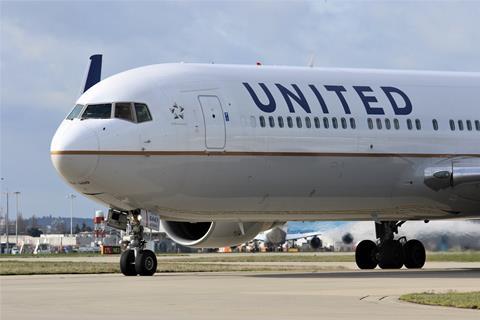 "I look forward to the day when we are past the pandemic and can talk about something other than cash burn," chief executive Scott Kirby says on his first earnings call since ascending to the CEO position in May.
On 21 July, United said it posted a $1.6 billion loss for the quarter that ended on 30 June, and that it continues burning cash to the tune of $40 million per day. That number is expected to fall to $25 million in the third quarter. The carrier is operating under the assumption that passenger demand during the current quarter will be down about 83% from last year's figures during the same period.
"When demand returns, we will be in the best position to reach cash-burn break even," chief financial officer Gerry Laderman adds. "There's still a tremendous amount of uncertainty ahead" and the recovery, he says, will be "jagged".
While United has numerous aircraft in storage, it has no plan to follow US peers Delta Air Lines and American Airlines in streamlining its fleet with retirements.
"We put a lot of aircraft into some type of storage, and we are moving aircraft in and out of storage based on maintenance cycles and engine time," Kirby says. "When we went into this we didn't have a plan to retire any fleet types and will hesitate to make final decisions until we better understand the length and duration of the situation."
There are "a token number of 757s" with older Pratt & Whitney engines that the airline is looking to shed, but "we are definitely trying to keep our powder dry on the rest of the fleet until we have better visibility", he adds.
According to Cirium fleets data, United has 21 of the type, of which ten are in storage.
Laderman says the Boeing 757s will likely not come back. "But even those aircraft will be available if there was a rapid recovery. The aircraft are being cared for and properly stored, and can be pulled out of the desert when we need them."
Earlier this year in wake of the pandemic's disruption, Atlanta-based Delta said it would retire McDonnell Douglas MD-88 and MD-90, and 777s.
Fort Worth-headquartered American announced in March it would accelerate retirement of 767s and 757s.
TRANSATLANTIC TRAVEL
Kirby says United is looking to step up international service once US-European Union travel restrictions ease.
In a 21 July letter to US and EU leaders, United's Kirby, along with chief executives at International Airlines Group, Lufthansa and American Airlines, urged the governments to adopt a joint Covid-19 testing programme and allow unrestricted transatlantic travel.
"Given the unquestioned importance of transatlantic air travel to the global economy as well as to the economic recovery of our businesses, we believe it is critical to find a way to reopen air services between the US and Europe," the airline chiefs wrote. "[A] coordinated Covid-19 testing programme could be key to providing confidence to permit services to resume without quarantine requirements or other entry restrictions."
United's new president Brett Hart, also appointed in May, says the airline has received no response so far, but "we do expect to have productive discussions".
"I think it's in everyone's best interests," he says. "This is something that will benefit all of our countries and economies. So we are hopeful."
A testing programme and lifting of travel bans are seen as key to the sector's recovery, at least as long as a vaccine remains unavailable. Kirby says he does not expect a vaccine to be introduced and widely available until "late 2021".
United already implemented extensive measures – including new cleaning protocols, changes to boarding and deplaning, face covering requirements, health questionnaires and limiting passenger counts - in order to inspire passengers to return to air travel. Air filtration systems help keep fresh air circulating within aircraft, executives say.
An airplane is a "uniquely safe environment", Kirby says. It is "one of the safest places you can be if you are going to leave your house".
On 22 July, United also announced it is expanding face-covering requirements; now it will require customers wear masks at service counters, kiosks, United Club locations, gates and baggage claim areas. Face coverings have been required onboard aircraft since June.