United Airlines earned a profit of $737 million in 2022, the first time since 2019 that it ended the year in the black.
The Chicago-based carrier said on 17 January that the earnings, though up from a near-$2 billion loss in the full year 2021, was still far from 2019's pre-pandemic profit of $3 billion.
In the fourth quarter, the carrier posted a $843 million profit, up from a $646 million loss during the same three months one year earlier. In the fourth quarter of 2019, United posted a $641 million profit.
"Over the last three years, United has made critical investments in tools, infrastructure and our people – all of which are essential investments in our future," says chief executive Scott Kirby. "That's why we've got a big head start, and we're now poised to accelerate in 2023 as our United Next strategy becomes a reality."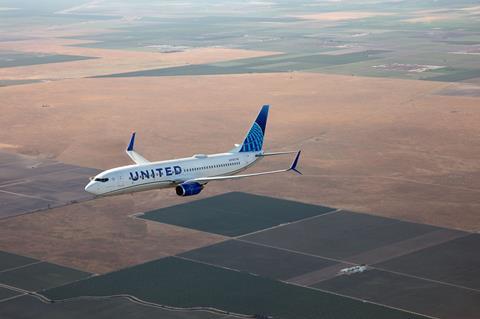 The company's "United Next" fleet renewal strategy calls for the carrier to add hundreds of new aircraft in the coming years.
Last month, United disclosed what it called "the largest widebody order by a US carrier in commercial aviation history". It said the order included 100 Boeing 787 widebody aircraft, with options for 100 more, along with orders for 100 737 Max jets. (Boeing later said United had previously held orders for 10 of each type, meaning 90 of each type – 180 total – were new orders.)
The airline's revenue in the final quarter of 2022 was $12.4 billion, up from $8.2 billion in the same quarter of 2021. That figure is also 14% more than in the same quarter in pre-pandemic 2019.
United's full-year 2022 revenue rose to $45 billion, up from $24.6 billion in 2021.
But while customers returned in droves, higher costs – especially the explosion in jet fuel prices – cut into the company's profitability. Full-year fuel costs more than doubled to $13.1 billion, from $5.76 billion in 2021.
Total operating expenses for the year were $42.6 billion, compared to $25.7 billion in 2021, an increase of more than 60%.
For the full-year 2023, the company expects to boost revenue by approximately 50% while increasing capacity by 20%. It plans to end the year with 958 aircraft in its fleet, up from 834 currently, according to Cirium fleets data.
While most of the final three months of 2022 went as planned, the airline – like its peers – suffered a blow towards the end of the quarter as a winter storm caused chaos at many airports across the country during the traditionally busy end-of-year holiday travel season.
Thousands of flights were affected, leaving millions of passengers stranded or delayed. However, unlike discounter Southwest Airlines, which had to deal with a major IT system breakdown that crippled it for almost a week, United seems to have escaped the episode relatively unscathed.
"United was able to recover quickly from significant irregular operations in December as a result of winter storm Elliott," the airline says. "During the key holiday travel days between December 21 and 26, nearly 36% of all United flights were exposed to severe weather. Despite that impact, 90% of United customers made it to their destination within 4 hours of their scheduled arrival time."
United's chief executive Scott Kirby says the episode was "one of the worst weather events in my career".
The company will hold an earnings call on 18 January to give more details about its fourth-quarter and 2022 full-year results.