United Airlines says it will receive $5 billion in payroll support from the CARES Act, designed to assist airlines in managing through the decline in demand as a result of the global coronavirus pandemic.
Chicago-based United says on 15 April that $3.5 billion will be in grants and an additional $1.5 billion will be in low-interest loans. The carrier adds that its parent company also expects to issue warrants to purchase approximately 4.6 million shares of common stock to the federal government.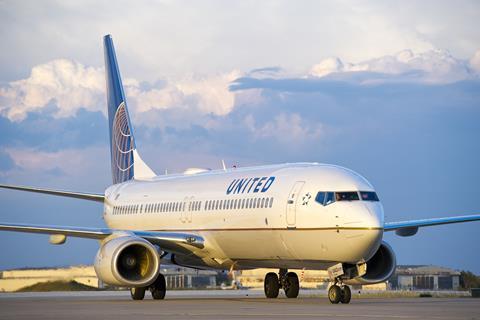 "These funds will cover a portion of our pay and benefits costs through September 30, and we are thankful for the support provided to our employees and their families by the CARES Act," the airline says in a statement. "This financial support is critical to our people, who are ensuring air service to communities throughout the country and supporting the shipment of much-needed medical supplies and travel of health care professionals around the globe."
Several other airlines including Delta Air Lines, Southwest Airlines, JetBlue Airways and American Airlines have announced in the past days that they will be receiving government aid from the $2 trillion package that was approved by Congress and signed into law by President Donald Trump at the end of March.
Altogether about $60 billion was set aside for the aviation industry after demand dried up following global pandemic's rapid spread around the world.
On 14 April, US Treasury Secretary Steven Mnuchin said Alaska Airlines, Allegiant Air, American Airlines, Delta Air Lines, Frontier Airlines, Hawaiian Airlines, JetBlue Airways, United Airlines, SkyWest Airlines and Southwest Airlines had told the government that they plan to participate in the payroll support programme.