United Airlines says cancellations of forward bookings are once again rising due to new travel restrictions and increasing numbers of coronavirus cases across the southern Sun Belt states, prompting a warning that furloughs will be inevitable.
In a filing with the Securities and Exchange Commission based on a management town hall meeting on 6 July, the Chicago-based carrier says the seven-day average of cancellations of bookings to and from Newark Liberty International airport within 30 days of departure increased to 85% on 1 July from 65% just two weeks earlier.
Newark, one of three major New York City metropolitan area airports, is one of United's busiest east-coast hubs.
For all other airports, the cancellations increased to 73% from 70%.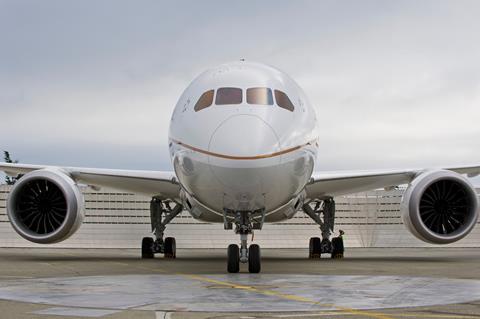 The cancellations come as governors of the three states around New York City – New York, Connecticut and New Jersey, also known as the tri-state area – on 24 June began requiring inbound passengers from numerous other US states to isolate for 14 days after arrival.
Initially, the restrictions applied to travellers from just eight states. But over the past two weeks the tri-states' governors raised that number to 22, meaning inbound travellers from almost half of US states – including those with rapidly rising case counts like Texas, California, Florida and Arizona – will be required to quarantine upon arrival in the New York City metropolitan area.
The New York City region experienced a peak in infections in April, and officials have been trying to prevent a second wave.
FURLOUGHS COMING
In addition to increasing cancellations, United's filing says it told employees it "does not expect the recovery from Covid-19 to follow a linear path", and is preparing for involuntary furloughs beginning in the fourth quarter.
United says it anticipates August capacity to be 65% lower than the same month a year ago, "which includes certain adjustments that the company plans to make to the schedule previously announced on July 1, 2020, resulting from reduced demand to destinations experiencing increases in Covid-19 cases and/or new quarantine requirements or other restrictions on travel".
Just last week, on 1 July, United announced an additional nearly 25,000 new and reinstated flights during the month of August, tripling its schedule size from June. That optimistic tone has now been effectively shelved.
"The company plans to continue to proactively evaluate and cancel flights on a rolling 60-day basis until it sees signs of a recovery in demand, and expects demand to remain suppressed until a widely accepted treatment and/or vaccine for Covid-19 is available," the company writes in the filing.
In addition, United says it will begin informing employees of potential furloughs between now and the middle of the month. The federal Worker Adjustment and Retraining Notification (WARN) Act requires employers to give 60-day written notice to employees in most cases where mass layoffs will occur.
As a condition for taking government financial aid from the CARES Act earlier this year, airlines had to refrain from involuntary layoffs until at least 30 September. With that deadline fast approaching, carriers are now beginning to make contingency plans for the case in which demand does not return to pre-coronavirus levels. Industry analysts have said they expect it to take about three years for the sector to return to 2019 business.
To limit daily cash burn, many airlines have introduced generous voluntary leave and early retirement programmes in the hope that these would encourage employees to step away from their jobs. But early signals show that even with the voluntary schemes, airlines' current employee counts far exceed their needs.
Pilot and flight attendant unions have already called on the US government to extend furlough protections and expand the financial support programme for airlines, so far to little success.